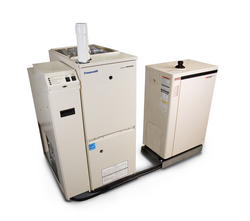 freewatt's integrated micro-CHP technology uses environmentally friendly fuels to provide a new level of comfort and economic savings to North American homes.
Utica, NY (PRWEB) March 17, 2010
ECR International, a designer and manufacturer of hydronic and HVAC equipment, will feature its revolutionary freewatt® home heating system at Go Green Expo 2010 in New York City. The eco-friendly trade and consumer lifestyle showcase featuring environmental activists Ed Begley Jr. and Mariel Hemingway returns to New York March 19-21 at Pier 92.
ECR, who will be exhibiting at booth number 405, will demonstrate freewatt's integrated micro-combined heat and power technology (micro- CHP). The freewatt Warm Air system, for example, is an integrated package of four parts: a power generation module, the freewatt furnace, a hybrid integration (HI) module and a supervisory control system. These components are engineered to work together efficiently using environmentally friendly fuels to provide a new level of comfort and economic savings to North American homes.
Electricity generated by the freewatt system also can be sold back to the electric grid, a benefit with certain appeal to New York homeowners because of recently expanded net metering options available to customers of six investor-owned utilities, including Consolidated Edison Company of New York, Inc. The New York State Public Service Commission now includes freewatt's micro-CHP technology under its net metering program, which allows homeowners to sell excess electricity back to their utilities or to receive credit for unused electric power.
At ECR's Go Green booth, company representatives will explain how freewatt can reduce fuel and energy consumption and lower homeowners' electric bills.
Go Green Expo is open to the public from 10 a.m. to 6 p.m. Saturday, March 20, and 10 a.m. to 5 p.m. Sunday, March 21. Pier 92 is located at 12th Avenue and West 55th Street on the Hudson River.
To learn more about freewatt and ECR or to speak with an ECR representative, visit ECR in booth number 405 at Go Green Expo New York City. For additional information, please visit http://www.ecrinternational.com or http://www.freewatt.com.
About ECR
ECR designs, manufactures and markets hydronic and HVAC equipment for residential, commercial, institutional, and hospitality markets. ECR currently operates manufacturing facilities in Utica and Dunkirk, N.Y., and distributes boilers, hydronic controls, furnaces, ductless air conditioning systems, vertical packaged air conditioners and heat pumps, and package terminal air conditioners under ten brand names.
# # #