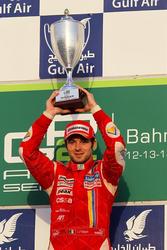 ...We have always felt that team Malaysia QI-MeritusMahara.com is a no.1 racing team of its class and now the rest of the world can see what we have always known!
Bahrain (PRWEB) March 18, 2010
QuestNet fans of 2010 GP2 Asia motorsport were on cloud nine when Luca Filippi – driver of their favourite team, Malaysia QI-MeritusMahara.com, raced into pole position at the Bahrain International Circuit (BIC) this weekend.
Luca Filippi, co-driver of the QuestNet sponsored team, overwhelmed supporters when he took pole position on qualifying day, Friday, 12th March 2010 and repeated the feat at the first race on Saturday, 13th March 2010 at the team's home track in Bahrain.
The weekend's final result places Team Malaysia QI-MeritusMahara.com in overall fourth position of the 2010 GP2 Asia Series which ended yesterday. The QuestNet team garnered 34 points, a mere one point less than the third place team and just three points behind the runner-up.
This win puts Filippi in second place among the participating drivers with teammate Alexander Rossi, placed in ninth position.
"Here's one for QI, one for QI-Meritus, one for Bahrain and one for Malaysia in line with Malaysia being one. We have always felt that team Malaysia QI-MeritusMahara.com is a no.1 racing team of its class and now the rest of the world can see what we have always known!" says Dato' Vijay Eswaran, the Executive Chairman of QI Group of Companies, the conglomerate of which QuestNet is a flagship brand.
Khaled Diab, QuestNet spokesperson and General Manager for QuestNet Middle East General Trading L.L.C., said: "Filippi's skills impressed everyone, and given that it is the team's home circuit, his win brings double pleasure." According to Diab, the BIC had also secured a win for Filippi in 2007.
"Alexander Rossi also gave an impressive performance, making a notable comeback after his disappointment at the previous rounds held at BIC, during the last weekend of February. It's the team's first win after three years of participation in GP2 Asia and it has rightly been described as a dream win for Team Malaysia," Diab added.
This is also the third year since inception of the GP2 Asia Racing Series that QuestNet is sponsoring team Malaysia.
QuestNet – a Hong-Kong-based direct selling brand with global operations (covering, among others, the Middle East, Africa and Asia) – is a keen sponsor of motorsport, according to Diab, because there is a clear relation between motorsport and the direct selling industry.
"In both instances it requires performance, focus, passion, a winning attitude, and last but not least, teamwork, to get ahead," Diab concluded.
ABOUT QUESTNET
QuestNet is an international direct selling brand established in 1998. Operating a global sales force, QuestNet offers a high-quality product portfolio consisting of innovative lifestyle products, including consumable and everyday items, personal care and wellness products, luxury and collectible items, vacation packages, and telecommunications.
QuestNet also provides business opportunities to millions of people around the world by offering entrepreneurial aspirants the opportunity to run their own business through an e-commerce platform, to promote the company and its products. QuestNet provides its representatives with the requisite training and business tools to succeed, and champions professional business and marketing practices at both corporate and network levels. Driven by the mission of RYTHM (Raise Yourself To Help Mankind), QuestNet is an active contributor to the support and sustainability of the communities in which it operates. QuestNet is a brand established by the QI Group.
To learn more about QuestNet, visit http://www.quest.net
###