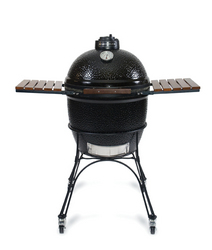 Developing a black version of our grill and new accessories offers consumers more choice and it's an opportunity for our retailers to generate more sales."
Flowery Branch, GA (PRWEB) March 19, 2010
Kamado Joe introduced its new black grill, four new grill versions designed for grill tables and outdoor kitchens, along with eight new accessories at the March 2010 HPBExpo held in Orlando, Florida.
Innovative Kamado Grills and Accessories
Kamado grills continue to gain in popularity in the United States, even in a down economy. Many consumers are joining the trend of enhancing their lifestyle with home renovations and upgrades; specifically in the area of outdoor living. A Kamado grill is an excellent addition, because it has a comparable cost to gas grills, but surpasses gas and briquette charcoal grills in taste and cooking flexibility. Unlike other grills, Kamado grills can be used as an oven, a grill and a smoker.
Kamado Joe has extended their product line for 2010 well beyond their original Kamado grill with its distinctive red color. According to Bobby Brennan, President of Kamado Joe, "The red grill is the flagship of our product line, but we realize that red is not for everyone; especially if you are designing an outdoor kitchen. Developing a black version of our grill and new accessories offers consumers more choice and it's an opportunity for our retailers to generate more sales."
Accessories are a natural extension of outdoor cooking, while Kamado Joe offers standard items like grill covers, fire starters and pizza stones, innovation is a key strategy. As an example, heat deflectors are well-known to consumers who like to smoke or slow-cook meat, so Kamado Joe researched the market and developed a ceramic and stainless steel version for more consistent indirect heating, and a two-position setting to easily adjust the amount of heating.
On product development, Brennan stated, "We look at every accessory and pursue ways to improve the user experience either with higher quality materials or design enhancements. The best evidence of our success is that we have customers who use our competitor's grills, but purchase our accessories. The biggest surprise is those same customers are buying our thermometers and grilling grates as replacement parts."
Creative Marketing and Retail Support
Distinctive marketing always follows productive innovation, and Kamado Joe uses if effectively to support their retailers. On marketing, Brennan remarked, "We want all of our marketing to communicate the fun and passion of outdoor cooking. Our messaging is created to be attention-getting, and the best example of that was the introduction of our latest ad at the expo. The headline reads, "Five Reasons a Kamado Joe Grill is Better Than a Girlfriend." The ad let's consumers know we don't take ourselves too seriously, but we do take outdoor cooking very seriously."
To maintain a consistent brand, Kamado Joe offers retailers ad templates that are generic and seasonal through an online marketing library. Retailers also have access to high-resolution images and logos to create their own marketing materials, and Kamado Joe's marketing department assists retailers who have a unique need. Retailers also benefit from point-of-sale materials and a new Kamado Joe Accessory Center, so retailers can display the accessories effectively.
Customer Education Drives the Market
Kamado Joe believes that the biggest opportunity for growth in the grilling market is through consumer education. Today's consumer experiences an average of 3,000 marketing messages a day, and with the number of grill models available in the market it's very difficult to stand out. Kamado Joe is reaching consumers in unique ways, and one of those efforts is an unbiased grilling guide on their website. Consumers can see a side-by-side comparison of the three most popular grilling styles and choose the one that's right for them. The guide can be found at: http://www.kamadojoe.com/youdecide.html.
For more information or to locate a dealer in your area, please visit their website at http://www.KamadoJoe.com
About The Kamado Joe Company
The Kamado Joe Company, Inc. has its corporate headquarters in Flowery Branch, Georgia and they are dedicated to the innovation, manufacture and sale of ceramic outdoor grills. Kamado Joe is a superior alternative to typical barbecue grills, and even other Kamado-style grills. For more information, please visit http://www.KamadoJoe.com
###