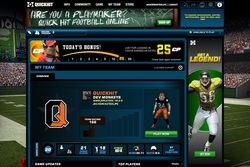 "Our partnership with IGN will only drive more awareness among the gaming community."
Foxboro, MA (PRWEB) March 17, 2010
Quick Hit, Inc. ("Quick Hit"), a leading developer and publisher of free social sports games, announced today that it has surpassed more than one million registered users for Quick Hit Football in its inaugural season. This milestone is accompanied by the news of its deal with IGN, the Web's biggest gaming destination, which will extend the free-to-play, online football game to an even larger audience of game enthusiasts.
"Quick Hit Football continues to explode," said Jeffrey Anderson, founder and CEO of Quick Hit, "and our partnership with IGN will only drive more awareness for Quick Hit among the gaming community."
The distribution deal with IGN will increase the number of players exposed to Quick Hit Football in the off season, and help provide an even stronger platform for launching the game's 2010 season. The game will be accessible through IGN's network of sites, which includes Direct2Drive, FilePlanet, AskMen and IGN.com.
Quick Hit Football has been in open beta for five months and has already achieved more than six million visits, 35 million minutes of game play, and is one of the top ranked companies for searches on 'free online football.' The Quick Hit team recently released two new updates, including: a demo game and tutorial for new Coaches, play-by-play commentary, customized team profile pages and a daily reward system that credits Coaches with free in-game currency, or CP, when they sign into their team page each day.
"One of the most exciting and rewarding aspects of being a live game is the ability to continually improve the product and add new features for our users," said Anderson. "It's amazing how quickly we're able to take a suggestion from the forums and turn that feedback into a new game element or improvement to an existing feature."
About Quick Hit Football:
Quick Hit Football is a free, authentic football coaching game that doesn't require a credit card or massive download. Its compelling graphics, hard-hitting action and feature-rich game play take online sports games to a new level. Play head-to-head against Pro Coaches like Brian Billick or Jimmy Johnson; take on Pro superstars, including Jason Witten, Ray Lewis, and Osi Umenyiora; or draft Legends onto your team like the famed Barry Sanders, Steve Atwater, James Lofton and Warren Moon. Unlike repetitive twitch-games, Quick Hit Football offers a persistent gaming experience that lets fans build and manage a football dynasty. Play fast, fun, free online football games, earn fantasy and coaching points with every game, and watch your team grow. Hit the gridiron and create your team today at http://www.quickhit.com.
About Quick Hit:
Headquartered in the shadow of the world-famous Gillette Stadium in Foxboro, Massachusetts, Quick Hit, Inc. is developing free, online social sports games and entertainment for a global audience. Quick Hit's products fill a massive void in the sports industry by offering head-to-head competitions that combine a rich graphical experience, the accessibility of Adobe® Flash®, and the wide appeal of fantasy sports. Its first title, Quick Hit Football, is currently in Open Beta. For more information, visit http://www.quickhit.com.
About IGN Entertainment:
IGN Entertainment, a unit of News Corporation, is the leading Internet media and services provider focused on the videogame and entertainment enthusiast markets. Collectively, IGN's properties reached more than 42.9 million unique users worldwide January 2010, according to Internet audience measurement firm comScore Media Metrix. IGN's network of videogame-related properties (IGN.com, GameSpy, FilePlanet, TeamXbox, Direct2Drive and others) is one of the Web's leading videogame information destinations. IGN also owns the leading male lifestyle website AskMen.com. In addition, IGN provides technology for online game play in videogames. IGN is headquartered in the San Francisco Bay Area, with offices across North America, Europe and Australia.
Quick Hit, the Quick Hit logo and Quick Hit Football are trademarks or registered trademarks of Quick Hit, Inc. in the U.S. and/or other jurisdictions. Adobe and Flash are either registered trademarks or trademarks of Adobe Systems Incorporated in the U.S. and/or other countries. All other trademarks are the property of their respective owners. Quick Hit and Quick Hit Football are not affiliated with, endorsed or licensed by the National Football League, any National Football League team or the National Football League Players Association.
Press Contact:
Samantha Smith
Quick Hit, Inc.
(508) 203-4852
ssmith (at) quickhit (dot) com
###