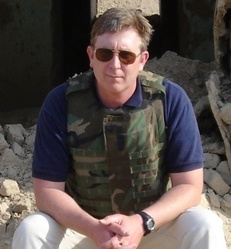 Doug is a shining example of a Michigan native who has relentlessly pursued his dream and found success against the odds
Traverse City, MI (PRWEB) March 18, 2010
He's a New York Times bestselling author and a contributing editor at Men's Journal. He's played basketball with George Clooney, taken an acting lesson from Harrison Ford, nearly drowned in the Cape Horn waters and lived with soldiers in Afghanistan.
There's no doubt that Doug Stanton knows what it means to Be Relentless™.
"Doug is a shining example of a Michigan native who has relentlessly pursued his dream and found success against the odds," says Oneupweb CEO and Founder Lisa Wehr. "We were thrilled to have the chance to interview him for our latest podcast episode. He has such a great story and is doing so many good things for Michigan, it's definitely one episode you won't want to miss."
As Wehr explains, Oneupweb's monthly podcast series, "Be Relentless: Business Success Against the Odds" documents the ups and downs, do's and don'ts and mesmeric lives of Michigan's most exemplary business leaders and professionals.
In this month's episode, Stanton talks about what it takes to be a writer-the constant struggles, the drive, and the amazing experiences that come as a result. He also discusses the new National Writers Series, which he co-founded with his wife, investigative reporter Ann Stanton, and attorney Grant Parsons.
"Doug has displayed the relentless spirit and drive that we so admire, and that business professionals need to truly be successful," says Wehr. "We're hopeful that his story, and our podcast series overall, will help to get Michigan fired up-in a good way."
You can listen and subscribe to the podcast series on iTunes. And be sure to stay tuned for next month's episode featuring another relentless Michigan business professional.
About Oneupweb
Oneupweb has been an innovator in digital marketing for more than a decade, creating integrated online marketing plans that incorporate natural search engine optimization (SEO), paid search marketing (PPC), social media marketing, digital pr, display advertising, analytics, creative services, mobile marketing, website design, web 2.0 technology, audio/video/podcasting, and research, training and consultation. Heralded by an independent research firm for their leadership team, Midwestern work ethic and solid experience in optimizing complicated sites, Oneupweb has been named a Top 20 Search Marketing Agency by Advertising Age for three consecutive years, and CEO Lisa Wehr is recognized as an Ernst & Young Entrepreneur of the Year. The company publishes an award-winning blog entitled StraightUpSearch, and an award-winning monthly newsletter entitled OneUp Low-Down. Oneupweb is a privately held company located in Traverse City, Michigan. For more information on Oneupweb, please call 231.922.9977, visit OneUpWeb.com or follow them on Twitter @Oneupweb and @LisaWehr.
About the Podcast
"Be Relentless" is Oneupweb's tagline, lifestyle and now, part of the title of their newest podcast series. Each month, Oneupweb will profile the ups and downs, do's and don'ts and mesmeric life of one of Michigan's most exemplary business leaders-someone who has relentlessly pursued and found success against the odds. The goal of the series is to provide people with uplifting chronicles of those who've succeeded despite the odds--and to show them that it can be done. To access the podcast series, visit iTunes.
###