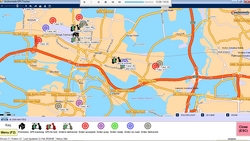 By understanding where their orders and drivers are, and when the next driver is due back, operators can dramatically improve their service to customers
London (PRWeb UK) March 18, 2010
Andromeda, the leading provider of software solutions for the Foodservice delivery, restaurant and QSR markets today announced the launch of two exciting new products for home delivery operators. These modules link to Andromeda's award winning Rameses EPOS software.
GPS Driver Tracking allows stores to track their driver's journeys to and from the store in real time, allowing you to accurately measure their delivery times. Using our mapping technology a store manager can see all of their pending orders, along with their driver's position, on an on screen map in real time. This enables the store to allocate orders efficiently, reducing delivery time to customers. The tracking facility is also a major safety benefit, enabling the store to locate drivers quickly should they get into difficulty.
Order Tracking allows consumers to track their order online by entering their phone number on your website, in order to allow them watch their order progress through the kitchen and then the drivers journey from the store to their address in real time. For stores without GPS driver tracking, the consumer will see that the order is on the road.
Mark Metcalfe, Operations Excellence Manager for Andromeda commented " Real time GPS driver tracking has been the dream of delivery operators for years, our pilot stores have shown this to be the biggest leap forward since Internet Ordering. By understanding where their orders and drivers are, and when the next driver is due back, operators can dramatically improve their service to customers. And, by allowing customers to track their orders online, not only does this reduce calls chasing orders, but it helps drive online ordering, reducing costs and increasing average spend."
Ben Portsmouth, Co-Founder and CEO of Andromeda added "Our development team has worked tirelessly for the last year to bring these products to fruition. Launching our GPS tracker demonstrates Andromeda's commitment to maintaining our position as the technology leader in the delivery solutions market. We have been pleased by the strong interest in these products from our customers, and expect that GPS order tracking will soon become a must-have product"
The new products are available to existing Andromeda customers immediately, and for will be available to new customers from 10th May, 2010.
Andromeda, based in London, England and with offices in France, Poland and Bulgaria is Europe's leading provider of software solutions for the foodservice delivery and takeout sector. Andromeda's award winning Rameses Pos software is suitable for delivery, counter service and restaurant operators. Major clients include Papa John's Pizza, New York Pizza (in the Netherlands), The Bombay Bicycle Club, Itsu Sushi, Lupa and many other successful companies. Andromeda's delivery EPOS solutions are suitable for operators ranging from single store locations to large international chains.
Additional products include fully integrated website ordering, credit card processing, centralized reporting and automatic text messages to customers when their order leaves the store .More information on Andromeda is available at http://www.androtech.com, email on sales(at)androtech(com)com, or call us on 0870 118 8010.
###