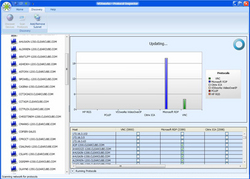 "... more than ever, administrators and professional services engineers need a toolkit of utilities designed to make Virtual Desktop installations simpler, quicker and easier."
Austin, TX (PRWEB) March 22, 2010
VDIworks, a leading provider of virtual desktop management and enablement products, announced today that it has released a new systems management utility intended for IT administrators implementing desktop virtualization. The new tool, called Protocol Inspector, makes it incredibly simple to scan large networks and find and report on all systems that allow remote connections.
Protocol Inspector can be used by professional services groups conducting site surveys prior to the deployment of a VDI system, by corporate IT administrators who want to routinely check their network to ensure that VMs and physical systems are available for users to connect to, and by managers who can generate graphical and tabular reports with the tool.
"2010 promises to be the year of Desktop Virtualization," said Amir Husain, President and CEO of VDIworks. "And more than ever, administrators and professional services engineers need a toolkit of utilities designed to make Virtual Desktop installations simpler, quicker and easier. We hope Protocol Inspector will become a key part of this toolkit."
VDIworks Protocol Inspector is very simple to use and allows multi-subnet scans of a network to discover systems that implement any one of several remote desktop or VDI protocols. Protocol Inspector does not require any agents to be installed on target systems. Once individual systems have been discovered, they are checked to determine whether they run any of the following protocols:

VDIworks VideoOverIP
Microsoft RDP
HP RGS
Citrix ICA
VNC
PC-over-IP
Protocol Inspector provides a convenient and easy-to-interpret graphical view of the distribution of protocols on the network, rendering data in the form of a multi-colored bar chart. If users prefer seeing data laid out in a tabular view, Protocol Inspector provides report view with sortable column headers so that information can be arranged appropriately. The new utility is useful in many scenarios; for example, if administrators want to perform an initial audit of a network to determine which systems have RDP enabled and which don't. Or if a professional services engineer wants to see the distribution of machines that will support higher-end multimedia experiences with protocols such as VDIworks VideoOverIP or HP RGS, vs. those that are better used for graphics-limited scenarios. It is also possible to use Protocol Inspector as a simple way of reporting on uptime/availability by checking whether all physical and virtual machines are up and running exposing the right protocol set.
For more information or to download a copy of Protocol Inspector, please visit: http://www.vdiworks.com
About VDIworks:
VDIworks makes easy-to-use software that enables IT managers to centrally create, deploy and manage virtual desktop infrastructure. The company's technology is based on more than 20 filed and awarded patents and is built on five generations of proven success with enterprise environments. VDIworks offers ultimate flexibility and preserves customer choice by giving customers the ability to deploy the right solution for the right user type, utilize any back-end hardware, end-point user access device or virtualization technology for desktop virtualization. The VDIworks Virtual Desktop Platform streamlines and simplifies virtual desktop deployments, enabling IT organizations to gain improved management and control, ensuring data and asset security, delivering a superior end-user experience, and ensuring the business continuity and cost reductions promised by desktop virtualization to companies around the world. For more information on VDIworks, visit http://www.vdiworks.com.
###