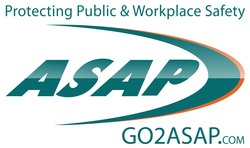 A Supervisor's Guide to Reasonable Suspicion Testing
Baltimore, MD (Vocus) March 18, 2010
American Substance Abuse Professionals (ASAP), a leader in drug and alcohol training services for the Federal Motor Carrier Safety Administration (FMCSA), has expanded its online supervisor and employee drug and alcohol training solutions to meet the regulatory requirements defined by the Federal Aviation Administration (FAA), Federal Transit Administration (FTA), Unites States Coast Guard (USCG) and the Pipeline and Hazardous Materials Safety Administration (PHMSA) along with a new non-DOT Drug Free Workplace Training designed to meet state worker's compensation and individual organization requirements. Refresher and FAA Recurrent supervisor training is also now available.
The ASAP Online Training Institute now delivers a full catalog of "supervisor" and "employee" drug and alcohol training solutions. The trainings help students reduce risks, comply with federal and state regulations and increase their knowledge about signs and symptoms of drug and alcohol use, workplace hazards and important federal regulations. All trainings meet Department of Transportation (DOT) and Drug-Free Workplace requirements for supervisor reasonable suspicion testing and employee workplace substance abuse training. Courses feature interactive graphics and solid instructional design to engage students and teach important safety topics that they can apply directly to their jobs.
"A Supervisor's Guide to Reasonable Suspicion Testing" is a two-hour, on-line web course that discusses the testing process, signs & symptoms of drug use, confrontation procedures and much more. Employee trainings are a one-hour, on-line web course that discusses information concerning alcohol and the five most commonly abused categories of drugs. Courses include chapter quizzes, a final examination and a "Certificate of Completion."
The ASAP Online Training Institute lets you customize trainings to your needs, is easy to administer, maintains electronic records of all students, provides nationwide reach with centralized management, and reduces risk while saving time and money. Special features also allow you to add your company policy, procedures for testing and company contact information to keep students informed.
ASAP, founded in 1999 by CEO, Dr. Reed Morrison, Ph. D, provides customized drug and alcohol prevention programs to companies seeking to reduce worker's compensation claims, improve workplace safety, minimize health care costs, increase employee retention, enhance employee morale and maximize profits. The Core Values and Vision at the heart of the ASAP Mission is the commitment to the protection of public safety through the provision of drug free workplace services.
###