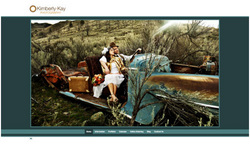 Greensboro, NC (PRWEB) March 19, 2010
The overall layout of the Pamplona and Charleston templates is very minimalistic. With clean lines and thin boarders that color shift to coordinate with the image, photographers will love the way that their images are presented.
Within the gallery pages thumbnails or image icons are shown at the bottom just below the navigation bar and image. Arrows to the left and right of the image, coupled with the thumbnails placed directly below the navigation bar, will give the user better control of the image speed and a more pleasant viewing experience.
Photobiz.com Full Screen Collection templates offer unique transitions, animation, and loader symbol that bring an interesting dynamic to our website designs. The designer controls the other customizable features like backgrounds, colors, music, transition speed, and size of their images.
The "banner like" layout that displays large re-sizable images is framed with the unique PhotoBiz.com color shifting ability. The incredibly unique "re-sizable" layout allows for the layout to always stretch across the viewers monitor and simply add more space to the top and bottom of a website. A border will be added to only the top and bottom and will allow the user to choose any color or background image to be displayed. This is a very unique feature that is only available with the Full Screen Collection.
The new navigation bar is built with roll-over capabilities so that visitors to the website do not need to click on it to pull up the drop down navigation bars. In the shared file image, you will notice it displays "The Photographer", "Unique Features", & "Our Products". As a visitor hover their mouse over "Information", this drop down menu appears. Less clicking contributes to less confusion.
The logo placement can be anywhere across the top of the new templates. It can be selected to be placed on the left, right, or center. The logo is placed just off of and above the images to emphasize the main focus, the photographer's images. Nearly all of these changes can be made with a click of the mouse.
As the Pamplona and Charleston templates are a part of the larger Full Screen Collection, some of the other fully customizable attributes are; complete color customization, custom background upload, re-sizable image frames, 32 changeable fonts and styles and unlimited galleries.
PhotoBiz.com has the best SEO training and support in the Industry. This includes help with page specific Meta Tags, deep linking URL's, Automatic XML site mapping, HTML Splash Page and automatic HTML mirror site.
Passionate Support : Guaranteed Satisfaction!
For more information about PhotoBiz.com, or to get started using the new Full Screen Templates, visit http://www.PhotoBiz.com or visit us on Facebook at http://www.photobizfanclub.com.
###