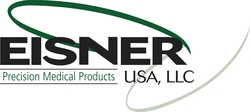 "SRC aligns itself with industry leaders like Eisner USA, LLC to provide additional benefits to these participants in recognition of their continued dedication to excellence" said Jackie Lueck Sneve, Vice President of Strategic Alliances at SRC
Crystal Lake, IL (PRWEB) March 18, 2010
Eisner USA, LLC, http://www.eisnerusa.com a leading provider of medical and surgical devices, today announced a collaboration with Surgical Review Corporation (SRC, http://www.surgicalreview.org), which administers the Bariatric Surgery Center of Excellence (BSCOE) program on behalf of the American Society of Metabolic and Bariatric Surgery (ASMBS, http://www.asbs.org). Under the agreement, Eisner USA, LLC will offer BSCOE participants special pricing on its innovative bariatric surgical products as part of SRC's Value for Excellence program.
Through the Value for Excellence program, SRC's Strategic Alliances team works with vendors and industry organizations to offer special product, service and pricing opportunities to ASMBS BSCOE participants and designees.
"We are proud to provide specially designed bariatric surgical products to all sites and surgeons participating in the ASMBS BSCOE program," said JD Kirchberg, Co-Founder of Eisner USA, LLC. "Our model is to seamlessly introduce the highest quality medical devices to bariatric surgery centers, and at the same time demonstrate significant savings and reduce the costs per surgery for all of our clients."
Eisner USA, LLC specializes in new and innovative medical devices and currently offers bariatric designed disposable access ports, endomechanic disposable instruments and specially designed flex extended retractors. In addition to their devices, Eisner USA, LLC is promoting newly developed 3D visualization software. This software converts CT and MRI imaging data into stunning 3D visualization software to aid in surgical planning as well as patient education.
"By participating in the ASMBS BSCOE program, surgeons and facilities demonstrate their commitment to delivering safe and effective bariatric surgical care," said Jackie Lueck Sneve, Vice President of Strategic Alliances at SRC. "SRC aligns itself with industry leaders like Eisner USA, LLC to provide additional benefits to these participants in recognition of their continued dedication to excellence."
About Eisner USA, LLC
Eisner USA, LLC is a qualified, FDA registered device company that has developed a commercialization and distribution platform for the medical device industry. This model seamlessly commercializes new and innovative medical devices into the United States market and enables interested companies to concentrate and invest in new healthcare technologies while utilizing a turnkey solution for their sales and marketing component. Eisner USA is committed to developing and manufacturing innovative, high-quality, cost-effective medical devices that meet and exceed clinician needs and improve patient outcomes. Learn more at http://www.eisnerusa.com.
About Surgical Review Corporation
Surgical Review Corporation (SRC) is an independent, nonprofit organization governed by industry stakeholders and dedicated to advancing the safety, efficacy and efficiency of bariatric and metabolic surgical care worldwide. To support best practices development for the treatment of morbid obesity and its associated conditions, SRC launched center of excellence programs for bariatric surgery and developed the Bariatric Outcomes Longitudinal Database (BOLD). SRC has already designated more than 700 surgeons and 400 hospitals and freestanding outpatient facilities across the globe, and BOLD is now the world's largest repository of clinical bariatric surgery patient data. For more information, visit http://www.surgicalreview.org.
# # #