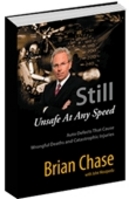 "The lawsuit alleges that the 1998 Toyota 4Runner SUV Jeffrey Bachman was driving at the time of his death was defective and failed to properly protect him against fatal injuries during the crash. "
Newport Beach, CA (Vocus) March 18, 2010
The California auto defects lawyers of BISNAR | CHASE (http://www.BestAttorney.com) have filed a products liability wrongful death lawsuit against Toyota Motor Corporation and Toyota Motor Sales USA after an April 2008 rollover crash that killed Jeffrey Bachman, a former resident of Virginia. The lawsuit alleges that the 1998 Toyota 4Runner SUV Jeffrey Bachman was driving at the time of his death was defective and failed to properly protect him against fatal injuries during the crash. The lawsuit was brought against the defendants by Jeffrey's wife, Angela Bachman.
Toyota 4Runner Roof Crush, Rollover Causes Fatal Injuries
According to court documents, Jeffrey Bachman was driving a 1998 Toyota 4Runner SUV on I-95 in Cumberland, North Carolina on his way home to Virginia on April 13, 2008. As Jeffrey was changing lanes on the highway, the 4Runner unexpectedly swerved and rolled over due to alleged lateral and directional instability. During the crash sequence, the roof of the SUV crushed inward, partially ejecting Jeffrey from the vehicle and causing him to sustain massive and devastating head injuries, including skull fractures and fractured vertebrae. Jeffrey died at the hospital shortly after the crash, leaving behind his wife and six children.
Narrow Track Width, High Center of Gravity in Toyota 4Runner Blamed
According to the lawsuit, the Toyota 4Runner Jeffrey was driving at the time of his death had a high center of gravity and an unacceptably narrow track width which contributed to its lateral and directional instability, ultimately causing it to roll over.
What's more, the lawsuit alleges that the 4Runner's A, B, C and D pillars/windshield headers and roof rails lacked sufficient strength and structural integrity to withstand minimal roof crushing forces without imparting injuries to occupants during rollover crashes, and that the use of tempered glass in the side windows and the lack of side curtain airbags increased the likelihood of severe and fatal injuries due to the ejection of occupants during a rollover crash.
"Tragically, Toyota's 4Runner SUV offered Jeffrey zero protection against mortal injuries during this rollover crash," said Brian Chase of the BISNAR | CHASE Auto Products Liability Law Firm. "As far as handling, it's unlikely that even a professional driver would have been able to regain control of this SUV. We believe Toyota acted in callous and negligent disregard for human safety by allowing its 4Runner to be sold to the public in the first place, knowing it was wrought with defects."
Toyota's Knowledge of 4Runner Defects
The suit alleges that even before it was manufactured, the Toyota 4Runner failed stability tests, being named the number two most likely vehicle in its class to roll over in a five-state study undertaken and/or described in the Federal Registry. And it's alleged that during Toyota's own in-house testing, the 4Runner obtained two wheel tip-up at speeds in the 35 miles per hour range.
What's more, the lawsuit claims that as far back as 1968, Toyota was fully aware -- through crash data, in-house testing, field-service reports and published studies -- that its SUVs were susceptible to injury-producing forces that would result in serious head and neck injuries during rollover crashes.
The lawsuit goes on to claim that defective and unsafe side and rear windows that did not comply with Federal Motor Vehicle Safety Standard (FMVSS) 205, as well as the absence of side-curtain airbags, failed to restrain Jeffrey during the crash and as a result, allowed him to be partially ejected from the vehicle.
Finally, the suit alleges that Toyota misrepresented the character and quality of its third generation 4Runner through marketing, advertising, and promotional materials, by warranting that the SUV was safe for its intended purpose. The lawsuit is pending in the State of North Carolina, County of Durham, case # 10CV002375.
About BISNAR | CHASE
The BISNAR | CHASE Auto Defect Attorneys represent people throughout the country who have been very seriously injured or lost a family member due to motor vehicle defects. The law firm has won a variety of challenging auto defect cases against General Motors, Ford Motor Co., Chrysler and many of the foreign manufacturers. For more information, read the book "Still Unsafe At Any Speed: Auto Defects That Cause Wrongful Deaths and Catastrophic Injuries" by Brian Chase and see http://www.ProductDefectNewsandAdviceBlog.com.
Contact: Brian Chase
Email: bchase(at)bisnarchase(dot)com
Phone: 1-800-561-4887
###