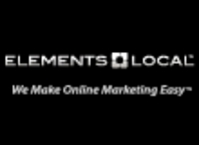 The best marketing move a business, or any company in that matter, can make is to proactively execute these new mediums
San Luis Obispo, CA (Vocus) March 18, 2010
ElementsLocal™ launches a free webinar series on the best practices for online marketing for businesses.
These webinars will focus on how to increase lead generation, brand penetration and deepen customer engagement through social media, email messaging and local search marketing.
Social media, mobile technology, and search engine marketing, to name a few, are changing how we do business, making it critical to be conversant in all areas of online marketing in order to stay ahead of the competition. "The best marketing move a business, or any company in that matter, can make is to proactively execute these new mediums", comments Jeremy LaDuque, online marketing expert and CEO of ElementsLocal.
Getting started, however, can be the biggest challenge. Even top-level executives who have decades of experience in marketing are baffled when it comes to initiating these new inbound marketing strategies, as it is unmarked territory for many.
"At every event we attend, whether it's the IFA Conventions or business expos, we get lots of great questions from business professionals on how to develop a successful online strategy. These questions inspired us at to create an instructional webinar series that delves into the most vital aspects in online marketing necessary to establish a strong online presence", continues LaDuque.

The first webinar in the series, Experts Reveal Their Secrets to Email, Search and Social Media Marketing will take place on Friday, March 19, 2010 at 10:00 AM PST. Three industry experts from both ElementsLocal and Exact Target will be discussing how to leverage technology by bringing different types of interactive communications together to drive deeper customer engagement, customer loyalty and new customer acquisition.
The second webinar in the series, Social Media: Socializing Strategically, will take place on, Friday, April 16, 2010 at 10:00 AM PST. Demystify the process of establishing and maintaining a successful social media presence. This step-by-step webinar will help determine which social media sites are for your business, how to implement a strategic plan, and how to easily manage it.
In the third in the series titled, Localized Online Marketing: Winning Over the "Locals", Elements' CEO and online marketing expert, Jeremy LaDuque, teaches how to create a local presence for every business location in order to improve local search engine rankings, reduce pay-per-click advertising, and ensure brand consistency. Webinar will take place on Friday, May 21, 2010 at 10:00 AM PST.
You can register for one or more of these webinars at the registration page.
Elements Inc., an interactive web agency, designs and develops online business applications, corporate web sites and Internet marketing strategies that enable clients to harness the power of the Internet to streamline their business. Based in San Luis Obispo, CA, and founded in 1999, Elements recently introduced ElementsLocal™, a software platform developed specifically for the unique challenges and opportunities franchise companies face in online marketing. ElementsLocal clients include Jiffy Lube, Sport Clips, Paul Davis Restoration and Always Best Care, among others. For more information on ElementsLocal visit http://www.elementslocal.com.
Elements' founder Jeremy LaDuque is available for speaking engagements and article contributions related to innovative Internet marketing strategies and maximizing ROI on the Web. To coordinate, contact Marketing Manager, Jessica Lamore.
###