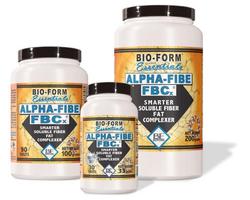 "Alpha-Fibe acts as a smarter fiber than any other we know of, promoting overall health and weight loss by removing "bad" fats first--along with excess fat calories--from any fat-containing meal" Thomas Walters, Technical Director Bio-Form Essentials USA
New Jersey, USA (PRWEB) March 22, 2010
Bio-Form Essentials, the original brand to offer the Alpha-Fibe smarter fiber supplement worldwide, validates that using Alpha-Fibe offers the majority of individuals who want to improve their overall health a wide range of potential benefits including weight management, blood pressure control and cholesterol control.
Alpha-Fibe uses a smarter soluble fiber that significantly reduces absorption of dietary fat. For example, six tablets a day will reduce absorption from 2,000 calories/day to 1,500. This reduces approximately 25-30 percent of calories from an American diet containing a normal amount of fat, which can lead to a safe and healthy weight loss of about 1-1½ pounds per week.
How it Works
Alpha-Fibe uses a naturally occurring, soluble fiber--alpha-dextrin--which actively binds with and removes bad fats and cholesterol from a meal. Scientific research shows this stable complex passes through the digestive tract, eliminating fat calories before the body absorbs it. Unlike using some similar weight loss pharmaceuticals, use of this fiber produces no undesirable side effects since the unabsorbed fat remains bound as it passes through the digestive tract.
Recently Completed Human Clinical Study
The recently completed human clinical study, conducted at the University of California, Davis, involves overweight, but not obese non-diabetic individuals. This investigation intended to confirm the effects of Alpha-Fibe on weight management and blood lipid levels, implicated in the development and pathogenesis of numerous disease states--including type 2 diabetes and cardiovascular disease. Twenty-nine healthy adults (age: 43.9+/-13.3 yrs, 8 males) with a stable body weight in the previous month participated in this study. The mean BMI was 27.1 +/-2.1kg/m2 at the beginning of this double-blind, one-month crossover study.
The study data showed significantly more weight loss with those using the active tablets compared to those using the placebo tablets. Unlike any other studied weight loss product, the participants did not follow a low fat or low calorie diet. Levels of blood cholesterol, LDL (bad) cholesterol, and the atherogenic Apolipoprotein B levels showed significant reduction using the active tablets while HDL (good) cholesterol levels remained unchanged. Participants with high triglyceride levels reduced their blood cholesterol levels more than twice as much compared to participants with normal triglyceride levels. In addition, the higher the cholesterol levels, the greater the cholesterol reduction when using the active tablets. Using the active tablets showed significant reduction of blood insulin levels compared to those using the placebo tablets, which suggests a reduced risk of developing type 2 diabetes.
Healthy Benefits
Scientists previously published substantial data from previous double-blind clinical trials with obese diabetic volunteers as well as numerous animal studies. The most recent research and prior, published scientific data suggest that:

Alpha-Fibe use as directed, effectively reduces and/or maintains body weight.
Alpha-Fibe use as directed, binds and remove nine times its own weight in dietary fat.
Alpha-Fibe use as directed, lowers both triglyceride and LDL (bad) cholesterol levels in those patients with elevated triglyceride levels.
Alpha-Fibe use as directed, by increasing adiponectin levels in the blood, may delay the need for insulin in type 2 diabetics.
The US Government's National Institutes of Health study showed that alpha-dextrin, Alpha-Fibe's active ingredient works as a smarter fiber by preferentially binding the "bad" saturated and trans fats over the "good" unsaturated dietary fats (Omega-6s and Omega-3s).
The FDA designated the active ingredient in Alpha-Fibe, alpha-dextrin as "Generally Recognized As Safe" (GRAS). The World Health Organization has given it an allowable daily intake of "not specified," suggesting that there is no unsafe level. The United States EPA established an exemption for the need to designate any maximum permissible level of use in foods.
About Bio Form Essentials USA
Bio-Form Essentials USA, a leading nutritional supplement brand supplying innovative solutions for health and fitness, feels pleased to offer Alpha-Fibe nationally through various pharmacies and health food retailers. To learn more about Alpha-Fibe and its benefits, or to order, please visit the Bio-Form Essentials USA website, http://www.alphafibe.org.
# # #