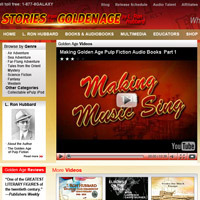 Galaxy Press has created its own radio station that will feature unabridged, multi-cast audiobooks of pulp fiction short stories and books written by author L. Ron Hubbard in the 1930s and 1940s, and offering such content for free
Los Angeles, CA (PRWEB) March 17, 2010
As part of the re-launch of the Stories from the Golden Age site (http://www.goldenagestories.com), book publishing company Galaxy Press has created its own radio station that will feature unabridged, multi-cast audiobooks of pulp fiction short stories and books written by author L. Ron Hubbard in the 1930s and 1940s, and offering such content for free.
In addition to the Golden Age Radio, downloads of any of several eBooks and audiobooks written by pulp fiction author L. Ron Hubbard are also being offered for free at http://www.goldenagestories.com. The free eBook and audiobook downloads are part of an ongoing effort to educate general readers on pulp fiction stories written in the 1920s, 1930s and 1940s.
The first program to be offered on Golden Age Radio is "The Dangerous Dimension." This was also L. Ron Hubbard's first science fiction story, published in the 1938 issue of Astounding Science Fiction. It was his first of 31 novels and stories -- under Hubbard's name and such pen names as Rene Lafayette and Kurt von Rachen -- that would appear in that magazine over the next 12 years, and prove instrumental in making Astounding the undisputed top publication of popular science fiction. The audio production of "Dangerous Dimension" can be found as the second story in the audiobook entitled The Professor Was A Thief (Galaxy Press, $9.95).
The Professor Was a Thief was the featured program in a 1950 episode of "Adventures in Time and Space" on NBC Radio's "DIMENSION X and X MINUS ONE." The promotion for the radio show read, "THE PROFESSOR WAS A THIEF 11/5/50 by L. Ron Hubbard. Grant's Tomb disappears then reappears. Arthur Maitland as Pop, John Larkin as Sweeney & John Gibson as the Professor. Tonight is the premier of NBC's gigantic Sunday night broadcast, THE BIG SHOW, with host Tallullah Bankhead. Preview of 'Shanghaied.' Announcer Fred Collins."
Stories from the Golden Age is a line of 80 books and multi-cast, unabridged audiobooks, featuring 153 stories written by L. Ron Hubbard in the 1930s and 1940s in any of the several popular genres of the day -- mystery, thriller, adventure, science fiction, fantasy and western -- using his own and any of the 15 pen names he used.
To hear the new Stories from the Golden Age radio station, go to http://www.goldenagestories.com.
###