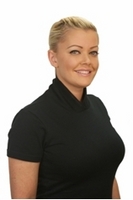 "The High-T started off as a sleep shirt, to keep the cold off my neck at night…but users liked the way it looked as a fashion item."
Rye, NY (PRWEB) March 18, 2010
Stuart Reis has launched a new and uniquely designed high neck t-shirt to promote better sleep. The High T t-shirt was originally designed to keep the neck warm while sleeping on cold nights and to promote better sleep, but has found broader appeal beyond its original functional application, such as use as a sailing t shirt. The unique patent-pending design covers the back of the neck, while remaining comfortable to wear, making it perfect for use as underwear or outerwear.
"I conceived of the idea after constantly experiencing a stiff neck during the winter nights when the house would get cold at night. I approached my mother-in-law, a retired seamstress, with the idea of attaching a collar to a standard t-shirt, and she developed several sleep tshirt prototypes using several of my old t-shirts. That led to the eventual development of a men's and women's version for manufacturing." The men's version is a classic fit, while the women's version has a slightly higher collar and is more form fitting.
While originally designed as an item of sleepwear apparel, it became apparent that it had broader appeal beyond its sleep shirt purpose. The unique patent-pending collar design makes it perfect for use as underwear or outerwear.

Great Sleepwear: provides a comfortable cover…keeping your neck warm on chilly nights and promoting a better night's sleep. Perfect sleepwear item for those who like to sleep in a t-shirt.
Great Activewear: keeps drafts off your neck when sailing, playing other sports or wherever drafts on the neck are undesirable…such as when on long airline flights.
Great Fashionwear: unique cross-over collar design provides enhanced comfort with a hint of stretch. As a designer t shirt, it looks great by itself or under another shirt.
The short-sleeve shirt is made of the finest 100% combed ringspun cotton making it strong yet soft to the touch. High quality double-needle stitching of all hems produces a handsome finish. The shirts are made in the U.S. and currently available in black or white. The women's version has a slightly higher collar than the men's version and has a form-fitting and form-flattering design with a hint of stretch. The shirts will be initially available only online at http://www.high-tshirt.com.
Contact Inforrmation
Stuart Reis
914 921-6427
Fax 914 881 9012
sreis(at)theryegroup(dot)com
###