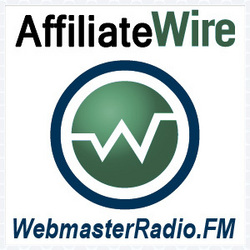 Ft. Lauderdale, FL (PRWEB) March 18, 2010
WebmasterRadio.FM, the world's leading B2B online radio network, welcomes the third episode of AffiliateWire, an industry-leading Think Tank radio show hosted by the team at RevenueWire.com, offering knowledge and analysis on e-commerce conversion strategies and current issues in affiliate marketing.
Produced by RevenueWire.com, a comprehensive e-business platform for affiliate marketers and merchants of digital products, AffiliateWire explores a wealth of educational, actionable information for affiliates in the digital product space.
The season's third episode of AffiliateWire features a talk with successful affiliate and industry mogul, Peter Dunbar (http://www.vtmarketer.com). Topics of discussion will include the Content Network, search engine optimization strategies and trends, and the future direction of affiliate marketing.
This month's show will also include a roundtable discussion about the hottest topics in affiliate marketing today including sponsored tweets, video marketing and the recent cancellation of Amazon affiliates in Colorado.
New episodes of AffiliateWire air every third Thursday of the month at 1PM Eastern/10AM Pacific on WebmasterRadio.FM or on-demand in the WebmasterRadio.FM archives inside the Affiliate Marketing Channel. Episodes are also available through iTunes.
About Peter Dunbar
Peter Dunbar has been marketing online successfully since 2000, and has been doing it full time since 2001. He is an avid AdWords user and a VIP Coach at ppcclassroom.com. He's married and has a two-and-half-year old son who wrecks his office every day.
After a rough start, he was earning a full-time income online by 2001. In 2005, he started with Google AdWords and added this new revenue stream to his income.
Peter has been a member of Perry Marshall's mastermind group for several years and has had several one-on-one sessions with Perry, and his right hand man, Bryan Todd.
Peter has also honed his split testing and keyword analysis skills by working with Dr. Glen Livingston.
Peter recently worked with Amit Mehta and three other coaches at the PPC Classroom Boston workshop consulting over 30 students from all over the world on how they could take their online businesses to the next level with PPC marketing.
He continues to use organic SEO and AdWords, and hopes to be able to help others with his insights.
To get in touch with Peter, go to http://www.vtmarketer.com/contact-me/.
About RevenueWire
Founded in 2007, RevenueWire entered the growing affiliate-fueled e-commerce arena as an exciting new platform for digital product merchants and affiliate marketers. RevenueWire's payment processing system SafeCart™, combined with highly accurate sales referral tracking and easy-to-use analytics tools, result in highly profitable digital product promotion and sales for affiliate marketers and digital merchants.
Contact:
Brenden Reid
RevenueWire, Inc.
Email: breid(at)revenuewire(dot)com
http://www.revenuewire.com
About WebmasterRadio.FM
WebmasterRadio.FM lifts the "veiled curtain" of the Internet, bringing the business community together through an interactive radio network. Its listeners are a global group, comprised of everyone from corporate executives and decision makers, to small and mid-sized businesses and individual entrepreneurs. WebmasterRadio.FM's stellar line-up of radio programming includes "CoverStory" with Jiyan Wei of PRWeb, WebmasterRadio.FM's official newswire; "Market Edge" with W2/Racepoint Group Chairman Larry Weber; Fired Up! with Gordon Rudow of Bonfire Communications; "SEM Synergy" with Search Engine Marketing Industry Leader Bruce Clay and more. To tune into WebmasterRadio.FM's live content or check out the show lineup, please visit http://www.WebmasterRadio.FM.
# # #