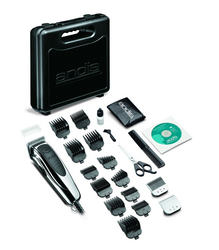 Beauty on a Budget, At Home Haircutting Tips
Sturtevant, WI (Vocus) March 20, 2010
The math for saving money with haircuts at home is fairly straightforward. Most families of four spend over $500 each year for haircuts, and haircutting kits from Andis are available online for as little as $29.99. Ivan Zoot, director of education and customer engagement at Andis Company, is appearing on TLC's Designing Spaces to demonstrate three cuts that will put style into your technique while you're saving money and time—a businessman's cut, a basic style cut for women and a boy's sport cut. The segment is called "Beauty on a Budget, At Home Haircutting Tips" and will air on April 9, 2010. Air times can be found online at http://www.designingspaces.tv/index.php.
About Designing Spaces
Created by O2 Media's Quorum Productions, Designing Spaces is a half-hour informative series that inspires viewers to make every space count and instructs them on how to make their homes more beautiful and functional. The show provides comprehensive information, presented in a fun, easy-to-follow format. Quorum Productions, a wholly-owned subsidiary of O2 Media Inc., is a Florida-based production company that is nationally renowned for creating award-winning educational programming. Guests on Designing Spaces have included representatives from companies such as Microsoft, Disney, MTV, Samsung, Chase Bank, Procter & Gamble, Wal-Mart, Celebrity Cruise Lines and many others.
About Ivan Zoot
A licensed cosmetologist and barber, Zoot's background includes experience as a hairstylist, salon manager and owner, hair care product manufacturer, salon chain technical trainer, regional sales manager and consultant in the professional beauty industry. He holds three Guinness World Haircutting records. In his position with Andis, he identifies, recruits, trains and manages Andis' team of professional beauty industry educators. He is often a featured presenter at industry shows and events where he shares information, education and his enthusiasms for clipper cutting and for the professional beauty industry.
About Andis Company
Andis Company, a family held business founded in 1922, is a leading manufacturer of handheld tools to trim, cut, curl, straighten and dry hair. The company's products are purchased worldwide by barber and beauty shops, consumers, hotels, motels, resorts, small animal groomers and large animal groomers and shearers. To find a local distributor, call the company at 800-558-9441 or visit their Web site at http://www.andis.com.
# # #