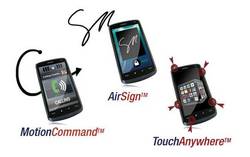 Sunnyvale, CA (PRWEB) March 18, 2010
InvenSense, Inc., the leading solution provider for the motion processing market, today announced a series of world's first solutions based on its proprietary MotionProcessing™ technology for its flagship MPU-3000™. Until now, smartphones were limited to physical keys or virtual buttons on a touch screen for user interface control that typically requires two-handed operation. However, through these breakthrough technologies, smartphone users can now leverage simple motion gestures to control their phones with natural single-handed operation and without looking at the phone. By leveraging the on-board 3-axis gyro and embedded motion processing engine that also captures accelerometer inputs, the complete motion processing hardware is in place that supports a series of system solutions, beginning with MotionCommandTM, TouchAnywhereTM , and AirSignTM technologies. These technologies will be on display at Qualcomm booth #2439 in the Central Hall from March 23-25 at the International CTIA Wireless show in Las Vegas.
Most smartphones today include the same functionality such as large touch screens, high-resolution cameras, Bluetooth, Wi-Fi, GPS, application stores and sleek industrial designs. Hardware differentiation is difficult as these phones resemble and respond similarly. With the fundamental addition of MotionProcessing technology utilizing a 3-axis gyroscope and accelerometer, capturing and interpreting motion enables many additional functions in the handset including gesture control, advanced gaming, image stabilization, location based services and augmented reality.
InvenSense provides a comprehensive embedded software development platform consisting of a Motion Processing Library™ (MPL) with an application programming interface (API). The MPL controls critical motion processing capabilities including sensor fusion, gesture management, and gyro calibration. The suite of new technologies announced today, the first in a series to be released by InvenSense, improves the user interface in several important ways. For example, by drawing a letter "P" in the air, the photo library becomes active (MotionCommand™). Touch the back of the phone and it is now possible to scroll through photos by simply tilting the phone to the left or right. When the phone rings inside a pocket, a few taps will mute the ring (TouchAnywhere™). And instead of typing in a pass code to unlock a phone, a unique air signature can be used for secure authentication (AirSign™).
These new MotionProcessing technologies from InvenSense are available now to customers of the MPU-3000 product family.
About InvenSense
InvenSense is the leading solution provider for the motion processing market for mobile consumer applications, with proven technology and products shipped in millions of units monthly to customers worldwide. The company's patented MotionProcessing™ technology and Nasiri-Fabrication platform address the emerging needs of many mass-market consumer applications such as gaming, image stabilization, remote controls, and handsets that require improved performance, enhanced features, and new and more intuitive motion and gesture-based user-interface solutions. InvenSense is a privately held company with headquarters located in Sunnyvale, California. More information can be found at http://www.invensense.com.
###