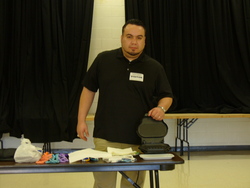 It was exciting seeing the principal, the teachers, and the students all smiling because of the joy and enthusiasm that Fabian brought to our campus
Dallas, Texas (PRWEB) March 23, 2010
In his speech, youth motivational speaker Fabian Ramirez used an electric grill to metaphorically represent how the state of Texas was about to grill their students with the TAKS test. Seasoned beef fajita meat was used to represent the student body.
"You have to be seasoned before you get grilled," Fabian said while holding 2 lbs of seasoned beef fajitas in the air before laying a portion over an electric grill. "Seasoned students are well done after they have been grilled."
Public schools in Texas are preparing to administer the Texas Assessment of Knowledge and Skills (TAKS) test to their students in April 2010. David Crockett Elementary students in Grand Prairie, Texas, will be among those taking the TAKS test.
In an effort to keep their students motivated through spring break, Crockett's Principal Suzy Meyer and Fifth grade teacher Brance Barker, hosted a school assembly on Friday, March 12, 2010, and invited Fabian to encourage their students to do their best on the TAKS test.
Fabian connected with the students since he has walked in their shoes having attended public schools in the Houston Independent School District system and taking similar state tests such as the Texas Assessment of Academic Skills (TAAS).
The assembly was held in the school cafeteria a day before the district was scheduled to be on spring break. The audience consisted of over two-hundred third through fifth grade students, all of which are scheduled to take the TAKS test in April 2010.
Responsive Students
The students responded positively to the message and left the cafeteria wanting to be a seasoned student so they can do their best on the TAKS.
"Fabian is the first youth speaker that I've seen that has kept the students completely engaged during the entire 30 minute presentation," said Brance Barker. "They were cheering, sitting on the edge of their seat and volunteering to answer questions which kept them involved the entire time of the presentation. It is evident that Fabian has a heart for education and a gift for connecting with students. After the presentation, students shared with me different lessons or illustrations that stood out to them - like his fajita illustration about being 'well-seasoned' with education."
Response from Teachers
The teachers were laughing and enjoying the speech along with their students. "It was exciting seeing the principal, the teachers, and the students all smiling because of the joy and enthusiasm that Fabian brought to our campus," said Brance Barker. "His heart and passion for students and education is contagious!"
About Fabian
Fabian Ramirez is a youth motivational speaker based out of Dallas, TX. Fabian has worked with at-risk youth for over ten years and continues to be a driving force in motivating students to finish high school and continue on to college. Fabian attended Dallas Baptist University where he finished with a 3.85 GPA while earning a Master's degree in Management.
###