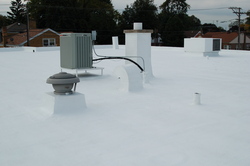 Hydro-Stop eliminated the need to tear off our store's roof, kept us open for business, and solved our water/leakage issues the day it was applied while costing less than re-roofing. Glidden Professional
Lake Forest, IL (PRWEB) March 20, 2010
After patching their flat roof for some time, Glidden Professional Paints selected Capital Maintenance Group, Inc. based in Lake Forest, IL to install the Hydro-Stop flat/low slope roof coating system on their store in Broadview, IL.
The day that the Hydro-Stop base coat was applied, the store's water penetration issues were resolved without impacting their business operations. Capital Maintenance Group's http://www.cpmgi.net certified installers applied the Hydro-Stop system to the entire roof including a number of hvac units, vent openings, and chimneys (areas that often leak when using traditional roofing materials) .
The Hydro-Stop waterproof roofing system eliminated all of the problem areas and created a seamless, energy saving, envelope to protect the store and it's contents from the elements going forward. Hydro-Stop is used exclusively by NASA, Disney, and the US NAVY for it's energy saving, low VOC, waterproofing properties and offers superior water protection in both tropical and cold weather climates.
Hydro-Stop eliminates the need to tear off the roof from your facility (if the current roof is structurally sound), increases HVAC efficiency, dramatically reduces energy costs, delivers 100% adhesion to a variety of substrates, and transforms your roof into a maintenance item for the future instead of a construction and rebuilding effort for the life of the facility. This reduces the lifetime cost and impact of re-roofing every decade or so at increasing costs using petroleum based roofing materials that deteriorate over time from UV rays.
Feel free to contact us at 847-295-7900 or http://www.cpmgi.net for a FREE Consultation on your facility's roof. Follow us on Facebook or look for our updates on Twitter. We look forward to serving you!
Capital Maintenance Group, Inc.
###