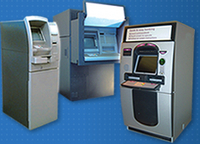 OEM Oceansound's ATM parts business brings excellent synergies to our business. These will have tremendous benefits for all our customers across the world.
(PRWEB) March 22, 2010
Independent ATM supplier TestLink has acquired ATM parts specialist OEM Oceansound Ltd to make their combined ATM spares operation the world's biggest of its kind.
TestLink is building on strong organic growth by adding OEM's ATM spares business to its own global ATM parts operation – creating a £10 million ATM group.
OEM's £3 million turnover operation is a perfect fit for UK-based TestLink's sophisticated ATM parts supply solution, which includes outsourced ATM Parts Inventory Management.
It gives customers of OEM direct access to TestLink's extensive NCR and Wincor ATM parts repair operations.
TestLink's advanced logistics means OEM's customers can get ATM parts shipped directly to their field engineers by advance exchange.
New and refurbished ATM parts are shipped directly to point of need so engineers can fit them immediately – before the original damaged parts get back to TestLink's ATM parts repair team.
TestLink's ATM Parts Inventory Management operation enables banks, maintenance organisations and other ATM operators to outsource all their ATM parts worries.
Logistics experts at TestLink provide a complete ATM Parts Inventory Management business, freeing up customers to concentrate on their core business.
TestLink Chairman Nick Beer said: "OEM Oceansound's ATM parts business brings excellent synergies to our business.
"It strengthens our already successful ATM spares operation and dovetails well with our ATM module repairs business.
"These synergies will have tremendous benefits for all our customers across the world," he added.
OEM was founded 10 years ago by Managing Director Paul Trafford. Its offices and technical facility in Camberley, Surrey are just 80 miles from TestLink's Poole, Dorset headquarters.
Mr Trafford, who has joined TestLink along with his team, said: "This comes at a great time for OEM. We needed a strategic partner like TestLink to take our company to the next level."
TestLink has demonstrated its commitment to its new 16-strong team at Camberley by directing all new ATM parts sales to the Surrey site, creating much-needed capacity at Poole to meet growing demand there.
The OEM name will continue as the dedicated ATM parts division of TestLink with further investment in the Surrey operation.
But the OEM ATM parts expansion is just one facet of TestLink's ambitious and sustained expansion strategy.
Over the last two years TestLink has bucked the recession with turnover rising from £4 million in 2008 to £5.7 million in 2009.
Now sales are on course for £6.7 million in 2010 with further growth and ongoing strategic expansion expected to drive turnover significantly higher beyond that.
TestLink is best known for ATM sales and ATM refurbishment. It supplies hundreds of top brand ATMs rebuilt to 'as new' standard – at prices up to 70% less than the cost of new ATMs.
To meet growing demand for individually-tailored ATM services, TestLink has expanded its offer to include:

ATM security upgrades – anti-ramming, anti-skimming, ATM cassette locking bars
ATM cassettes in stock, ATM cassette refurbishment and repair
NCR ATM cassette testing systems.
TestLink also has a dedicated Chip & PIN repair operation and a laptop repair business, Laptop Support, which provides solutions for corporate and individual users.
TestLink operates to the ISO9000 and ISO14001 quality standards and has an ethical environmental policy.
For more information, contact TestLink Managing Director Greg Hughes, +44 (0)1202 627100, http://www.testlink.co.uk.
Information for Editors:
UK & Western European Operation
TestLink Services Ltd
No. 1 Factory Road
Upton
Poole, Dorset
BH16 5SJ
United Kingdom
Telephone: +44 (0)1202 627100
Fax: +44 (0)1202 625577
Central European Operation
TestLink Services Ltd
Luzna 591/4
Prague 6
16000
Czech Republic
Telephone: +420 220 121 450
Fax: +420 220 121 449
TestLink – Cutting Costs By Innovating Service
TestLink Services Ltd is an independent ATM supplier specialising in ATM remanufacture, ATM refurbishment and ATM asset & estate management – benefiting the global environment by increasing the reuse and recycling of automated banking equipment and reducing ATM-related waste.
ATM operators and third party manufacturers across the world can cut costs by up to 70 per cent by purchasing ATMs remanufactured by TestLink to 'as new' condition.
TestLink has 20 years of experience providing repairs to the leading ATM OEMs and maintenance organisations. The company has a capability across NCR and Wincor ATMs on all module types.
TestLink engineers strip each ATM down to its individual components, painstakingly rebuilding each module for maximum operational efficiency and longevity of service.
Each refurbished ATM undergoes a detailed 210-point inspection at TestLink before being shipped with delivery from just seven days.
Services provided by TestLink include:

ATM asset & estate management with detailed reports on how well your ATMs are functioning, recommended servicing and preventative maintenance, modules and parts inventory. Reports include the performance of external non-TestLink engineers and whether they need ATM training to improve productivity
ATM parts inventory management – sophisticated systems with online visibility of your inventory and its movements; secure storage of modules and parts; secure disposal of old or obsolete parts and modules to UK Ministry of Defence standards
ATM parts repairs – fast turnaround time; online status system; premium quality parts; obsolete part support; direct to site international shipment by advance exchange
ATM cassettes (NCR, Wincor, Fujitsu) – supply of refurbished ATM cassettes; repair and refurbishment of ATM cassettes; testing and configuration of ATM cassettes
supply of hand-portable NCR ATM cassette testing systems
ATM security – anti-ramming, anti-skimming and ATM cassette locking bars
mobile computer support to the corporate sector, repairing OEM products both inside and outside warranty
mobile computer support to SMEs and individual computer users via TestLink's dedicated website http://www.laptopsupport.co.uk
specialised Chip & PIN repairs on behalf of banks and third party maintenance organisations; refurbishing Chip & PIN devices to 'as new' condition.
TestLink serves its global markets from two fully resourced repair centres in the UK and one in the Czech Republic. Many of the 150 staff have direct OEM experience gained as engineers at ATM manufacturers NCR and Wincor.
TestLink was founded in 1989. It is still managed by its two founders, Chairman Nick Beer and Managing Director Greg Hughes.
The company operates to ISO9000 quality systems and ISO14001 environmental systems standards with an ethical environmental policy.
# # #