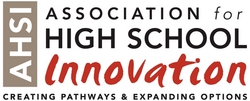 Providence, RI (Vocus) March 19, 2010
The Association for High School Innovation (AHSI) is the nation's foremost network of high-quality high school innovations offering a diverse range of models that help this country's at-risk and underperforming youth stay in school, earn a diploma, and graduate prepared for success in college and careers. AHSI recently launched a major new enterprise that will help achieve the goals of President Obama's Investing in Innovation and Race to the Top initiatives, as well as efforts led by the National Governors' Association and United Way Worldwide to promote high school graduation for all.
Grad Nation, a 10-year campaign aimed at reversing the dropout crisis and preparing children for success in college, work and life, was recently announced by America's Promise Alliance. During his speech at this announcement, President Obama praised two AHSI organizations, Communities in Schools and Big Picture Learning's Met Center, as examples of programs already working to end the dropout crisis. A third AHSI organization, YouthBuild USA, was also featured during the event when General Colin Powell was introduced by a YouthBuild graduate.
AHSI was formed in 2003 as the Alternative High School Initiative with generous support from the Bill & Melinda Gates Foundation. Pleased to announce a recent name change, AHSI is now known as the Association for High School Innovation and operates independently as a national network of youth development organizations. These organizations operate over 275 schools and programs in more than 35 states and 170 cities across the U.S., supporting the learning and growth of over 38,000 young people, many of whom might otherwise have dropped out of school.
The Association for High School Innovation is launching at the most timely moment in recent history, ready and poised to respond to President Obama's call to action, eager to support states, cities, partnerships, and anyone interested in improving the country's graduation rate.
For more information, visit http://www.AHSI.org.
###