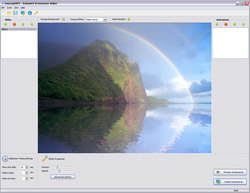 (PRWEB) March 30, 2010
The newest software from DesktopPaints.com, Animated Screensaver Maker 2.0, allows users to decorate their desktop with a simple download and several clicks of the mouse. Once the tool is downloaded, all that is needed is a photograph to get started.
The animation tool can be downloaded right from the site. Unlike other screensaver builders, the Animated Screensaver Maker gives users the ability to create and design their own animation. A variety of animation techniques provide for creative, original desktop screensavers. For instance, the program gives users the option of adding weather effects or of morphing any scene into an underwater one with moving fish. With these fun animation and transformation effects, the result is a one-of-a-kind animated desktop screensaver.
The tool allows for the creation of an unlimited number of screensavers.
To view a gallery of examples of animated screensavers that can be created with the Animated Screensaver Maker 2.0, click here. The software needs to be already registered or downloaded as a trial version before the examples can be previewed. The gallery provides the screensaver examples in .asw format. The gallery currently contains ten different screensavers for preview.
Images can also be applied to desktop wallpapers.
Users can either download a trial version of the program (5.33 MB), or purchase the full version for $23.77.
For more information about the Animated Screensaver Maker 2.0 software, please contact Denis Burenkov via e-mail at contact(at)desktoppaints(dot)com or phone at +7 929 646 9679.
###