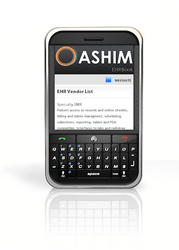 This puts an entire searchable EHR vendor directory at the consultant's fingertips
Salt Lake City, UT (PRWEB) March 18, 2010
The American Society of Health Informatics Managers, Inc. (ASHIM) today announced the release and immediate availability of a mobile application for smartphones. The free application enables Health IT Consultants to help physicians select an Electronic Health Record (EHR).
"In today's rapidly expanding sea of EHR products, most Health IT experts develop a personal preference," said Susan Nagel, ASHIM's National HIT Member Services Director, "but having familiarity with only one or two EHRs is about as useful to most physicians as a mechanic who only knows one automotive maker."
The web-enabled application, called EHRBook, searches products by keyword to narrow the EHR selection based on the preferences of the physician. It's designed for use with the Blackberry, Android, Palm Pre and iPhone mobile platforms. "This puts an entire searchable EHR vendor directory at the consultant's fingertips," says Nagel, "they can quickly produce an unbiased product list while they are sitting with the physician."
To access the EHRBook application and for more information about ASHIM visit the organization's Web site, http://ashim.org under the "Featured News" page.
About the American Society of Health Informatics Managers (ASHIM, http://www.ashim.org):
The American Society of Health Informatics Managers (ASHIM) is a professional member association for IT professionals who specialize in Health IT. ASHIM is a non-profit, non-governmental organization that sponsors a credentialing exam to certify the healthcare industry knowledge of working level IT professionals, known as the Certified Health Informatics Systems Professional (CHISP) exam.
###