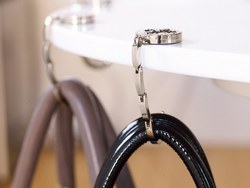 Our patent has already assisted us in resolving numerous issues with infringing companies
Santa Monica, CA (PRWEB) March 19, 2010
The U.S. Patent and Trademark Office granted a patent to Luxe Link in January for their portable purse holder. Created to keep a woman's handbag off the floor, the purse holder that also acts as a purse charm was invented by Luxe Link CEO Kalika Yap. "It's been a long process, so we are thrilled to have received our patent," said Yap.
A Luxe Link unwraps and attaches to tables to keep purses from wear and tear. Yap has found that a patent has helped protect her assets and has even increased her bottom line. Her three year process has taught her the ins and outs of pursuing a patent and below she offers her sage advice.
In general, patents are important at preventing others from capitalizing on the patent holder's invention, good will and hard work. Assuming you have the freedom to operate, patents provide a "safety zone" so that others cannot make, use or sell a product or service that has the features of any of the claims in your patent. Generally speaking, the bigger the safety zone, the more useful the patent is. Additionally, patents are an asset to a company and are taken into consideration by potential buyers of your company or for a merger with another company.
"We have approximately 100 infringers worldwide," says Yap. "But through our patent we have been able to regulate our competition. So now we have a "legal monopoly" to sell our patented products."
Luxe Link began their patent pursuit in August 2006 and received their U.S. patent on January 12, 2010. While it approximately takes three years from start to finish, the patent process can take as little as one year. The actual length of time can depend on factors such as the responsiveness of the Patent Office and the patent attorney, the complexity of the invention, the reasonableness of the position taken by both the Patent Office and the patent attorney, whether an appeal is necessary, and numerous other issues.
"Our patent has already assisted us in resolving numerous issues with infringing companies," says CEO Kalika Yap. "Most small companies do not want to get embroiled in a patent infringement lawsuit, and are willing to either stop manufacturing, using or selling the infringing product, or enter into a licensing or royalty agreement with Luxe Link."
While the process is usually different for just about every patent application, the process usually starts with a patent search to see what other patents or publications may already be out there. Then the patent application is filed with the Patent Office, which gives the inventor a "patent pending" status. There are usually two or more back-and-forth exchanges between the Patent Office and the patent attorney, during which the Patent Office tries to narrow (or reject altogether) the pending claims in the application, and the patent attorney tries to maintain the breadth of the pending claims. Eighteen months from the filing date, the patent application is published and becomes a matter of public record. Once the application is allowed, an issue fee is paid, and within approximately two months, the patent issues.
What happens if you don't get a patent? There is always a chance that you may not get a patent. If you don't, you still had the benefit of having a "patent pending" status, which can act as a deterrent to potential infringers.
"I would advise entrepreneurs to pursue a patent," says Yap. "Our patent gives us credibility in the market and makes selling to potential clients much easier- and what business owner doesn't want that?"
About Luxe Link:
Crafted from stainless steel, and about the size of a small compact, Luxe Link's design features an oversized link chain that wraps around a magnetized circular top embossed with colorful, seasonal designs. The purse holder unwinds to create a portable hook that turns any tabletop into a safe place to hang a bag. When not in use as a hook, Luxe Link's locking mechanism allows for it to hang from a bag's strap as a purse charm. Luxe Link has the official licensing of The Beatles, and will soon launch a Hello Kitty line.
U.S. Patent No. 7,644,900.
# # #