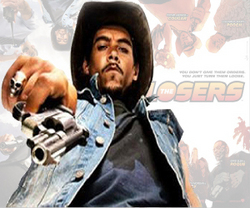 The Real Deal Brazil hats work perfectly in both films, and each time they convey a completely different image.
Greenville, NC (PRWEB) March 30, 2010
The Real Deal Brazil is positively giddy to announce its distinctive recycled-tarp hat is once again being featured prominently in a big-budget Hollywood production, the upcoming action film The Losers, in theaters April 23.
The advance trailer for "The Losers" makes it official: The Real Deal Brazil has reset the standard for Hollywood cool. The same hat that amped Woody Harrelson's comic redneck flair in the 2009 comedy-horror blockbuster Zombieland now boosts Oscar Jaenada's onscreen persona as "Cougar," the strong, silent sharpshooter. Cougar sports a darkly-dyed Real Deal Brazil recycled-tarp hat in key scenes in the fast-paced flick, honing his look of brooding intensity.
"The Losers," the gritty tale of a rogue CIA black-ops unit out for revenge following a failed assassination attempt on its members, is an adaptation of Andy Diggle's same-named graphic novel.
Magali Guidasci, costume designer for the new action film, served in that same capacity for "Zombieland," choosing the Real Deal Brazil recycled-tarp hat as the principal prop for star Woody Harrelson. Her happy experiences with the rough-and-ready hat during "Zombieland" production led her to use it again just months later, when she began work on "The Losers," she noted by phone recently.
Harrelson had pushed hard for the "Zombieland" set to be as Earthy-friendly as possible, and Magali's research into potential "green" costuming props led her almost immediately to the Real Deal Brazil's hardy head-topper: All RDB canvas hats are handmade in Brazil from formerly trash-bound old cargo-truck tarps, with the wire for the bendable brim pulled from retired truck tires. Once Magali had several Real Deal Brazil hats to work with, their durability and adaptability sold her on them completely. "These are very workable hats," the costume designer declared. "They work perfectly in both films, and each time they convey a completely different image."
Magali would gladly use Real Deal Brazil hats in another appropriate future project, too. "If everything I worked with as at the level (of these hats)," she enthused, "it would be so fantastic!"
About The Real Deal Brazil
Based in Greenville, N.C., the small, scrappy Real Deal Brazil company offers a buzzworthy line of recycled hats, along with recycled bags and several recycled personal accessories, including coconut hat bands and coconut belts. The Real Deal Brazil's Earth-friendly tarp hats hail from a tiny Brazilian town down along the equator, where they're handmade from recycled canvas tarps that once covered the beds of cross-country cargo trucks hauling open freight, from the steamy Amazon out to the bustling Brazilian coast. Recycling extends all the way down to tarp scraps, which are sewn as patches onto other Real Deal Brazil products, while the wire that shapes the Brazilian hats' bendable brims is pulled from old truck tires.
In the hat fabric's earlier life as truck tarps, it endured hammering rains, scalding heat and harsh salt winds, plus pummeling from all manner of road debris. That means no two RDB hats can ever be alike; in fact, they often vary wildly, in color, holes, fraying, patches, stitching and stains. Some even have snippets of Portuguese stamped on them in thick black ink.
Perfect as a work hat, a fishing or boating hat, or a travel hat, each Real Deal Brazil recycled-tarp hat is truly as individual as the person who wears it.
For more information, visit http://www.RealDealBrazil.com
Media Contact
The Real Deal Brazil
Frank Rabey
(800) 334-1078 X241
frabey(at)realdealbrazil(dot)com
###