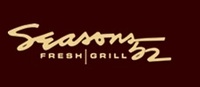 Tampa, FL (Vocus) March 19, 2010
Seasons 52 fresh grill and wine bar greeted guests at the Westshore Plaza in Tampa on opening night of the newest Seasons 52 location. On Monday, February 15th, the exciting night of Tampa FL dining kicked off as guests were welcomed by a warm, inviting atmosphere along with exceptional offerings of the Seasons 52 Westshore Tampa Restaurant including:
Fresh and seasonally-inspired cuisine
Live music nightly via the piano bar
Award-winning international wine
Knowledgeable service
This weekend, enjoy Tampa FL dining at the Seasons 52 at WestShore Plaza, a casually sophisticated fresh grill, highlighted by sensational food that also happens to be good for you.
Experience the Flavorful Menu of The Newest Seasons 52 Westshore Tampa Restaurant
As different foods reach their seasonal peak of taste, Seasons 52 seeks out the best, market-fresh products on a weekly basis to ensure they are serving only wonderful-tasting, highly-satisfying meals. Dining at the Westshore Seasons 52 is nutritionally balanced, including the highest quality lean meats and seafood, good carbs and beneficial oils. Menu highlights at the newest Westshore Tampa restaurant location include:
Year Round Favorites
Winter Specialties
Lunch Selections
Award-Winning Mini Indulgences
Indulge in the perfectly portioned servings of Key Lime Pie, Old-Fashioned Carrot Cake, or Market Fresh Fruit and enjoy all the delicious flavors without the guilt of oversized portion sizes. For more information on fresh Tampa FL dining, or to make a reservation at this Westshore Tampa restaurant please visit: http://www.seasons52.com/locations/Tampa.asp.
###