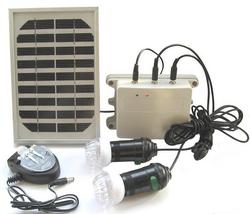 Bosoley solar powered lights can change a life, bring security to your property and even save a life.
New York, NY (PRWEB) March 23, 2010
Bosoley Solar Energy's line of solar lights brings vital illumination to residents and aid workers without electricity in Haiti. Many areas in the country have been left without proper lighting since the earthquake, posing a serious security problem and preventing medical treatment and other aid activities from continuing after dark.
This is currently one of the biggest issues as Haiti works to rebuild and take care of the needs of its people. Without lighting, some Haitians are even afraid of theft, rape, and attack during the night, so they stay awake. The buildings that remain intact or contain valuables, including aid and medical materials, are also more vulnerable to criminal activity.
This is where Bosoley's solar lights come in. The lights are fully portable and lightweight, allowing aid workers or families that must move to take the lights wherever they are needed. These lights are also easily carried and distributed to the families that need them most. They are multi-functional and can be used to protect food banks, warehouses, and private properties, as well as to illuminate road repair sites or schools that need to catch up on education after hours.
Perhaps most important, these lights can continue to be used by Haitian families long after the initial recovery period. Solar lights are more economical and safer than the gas lanterns that are usually used in Haiti and which pose a dangerous health and fire hazard.
Bosoley provides:

Plug-and-play lighting kits for homes, camping activities, field hospitals, and emergency relief efforts.
User-friendly, maintenance-free, and multi-functional lights that can outfit communities for the long-term from Port au Prince to other affected cities.
Powerful stand alone solar powered floodlights to improve security wherever needed. These plug-and-play projectors can also be extremely useful for night patrols and off the grid areas.
Packages that contain prefabricated homes oufitted with solar powered lights for a reliable long-term housing solution. These homes are built to last and also available fully equipped.
Bosoley Solar Energy is a U.S.-based company founded by Haitians that has been dedicated to improving conditions in Haiti long before the earthquake. The company will re-invest 20% of the profits from all sales of its solar lights in an ongoing education program that will teach the Haitian people about the benefits of using solar lights over dangerous gas lanterns.
Please visit us at http://www.bosoley.com for more information
###