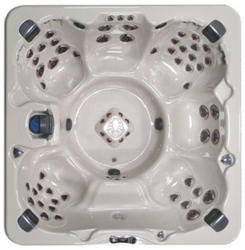 This arrangement gives specialty spa dealers across the country access to the trusted and internationally recognized Coleman brand
Pomona, CA (PRWEB) March 19, 2010
LMS, Inc., the exclusive maker of Coleman Spas and the largest manufacturer of luxury home resort products, and Pool Corporation (POOLCORP®), the largest wholesale distributor of swimming pool and related leisure products, have finalized a strategic distribution arrangement of Coleman Spas Hot Tubs.
Under the agreement, POOLCORP subsidiaries SCP® Distributors LLC and Superior® Pool Products LLC are now wholesale distributors of Coleman Spas Hot Tubs to specialty pool and spa dealers. SCP Distributors and Superior Pool Products currently distribute a wide variety of pool products to a network of 70,000 wholesale customers throughout North America and Europe, which includes both pool and spa dealers.
"Our distribution arrangement is a win-win for the industry," said Casey Loyd, LMS President. "This arrangement gives specialty spa dealers across the country access to the trusted and internationally recognized Coleman brand—known for its innovation in smart outdoor living products, with an all new, top-of-the-line collection of quality, stylish and affordable hot tubs."
The Coleman Company is an international leader in the innovation and marketing of life outdoors and has built the Coleman name on being the brand of choice for all outdoor living essentials. A sampling of the company's products include: its legendary lanterns and stoves, as well as coolers, tents, and sleeping bags.
It is in this same rich 100-year-old tradition of bringing the best products to life for the enjoyment of the outdoors that drives the innovation of the new Coleman Spas Hot Tubs collection. The newly designed Coleman Spas stay true to the brand's integrity and associated carefree outdoor lifestyle and include seven new models with cutting-edge fresh features such as unique pillow and electronic designs. Consumers will also be pleased with the organic curves, patented designs and modern enhancement features exclusive to this special line of Coleman Spas. A variety of models are available to fit any home environment, including 8-foot and 7-foot spas in bench and lounger configurations plus a selection of specialty spas.
According to Donna Williams, Senior Director of Product Management for POOLCORP, "The innovative designs, variety of features and state-of-the-art engineering give us great confidence in bringing the Coleman Spas collection to our dealer network. Coleman Spas will be a tremendous addition to the line up of products that we currently offer."
Coleman Spas are manufactured in the USA in Pomona, Calif. at LMS' state-of-the-art 1 million square foot headquarters. Coleman Spas are produced to order and shipped within a record-breaking five days of order confirmation—the fastest manufacturing turnaround time in the industry. According to LMS President, Casey Loyd, this exceptional manufacturing to shipment lifecycle is driven by the company's goal to ensure that customers are able to experience the soothing comfort and pleasure of their new spas without delay. "You can literally order your spa today and enjoy it with family and friends for the next weekend get together," said Loyd.
LMS, Inc. and POOLCORP will co-host a special First-Look Open House on Tuesday, April 20th for interested dealers to preview the all-new Coleman Spa Hot Tubs collection. This exclusive preview gives dealers an opportunity to experience and learn first-hand the unique features and selling points of this exciting collection.
Details for the Coleman Spa Hot Tubs Open House Event:
Who: By Invitation Only
Where: LMS, Inc. Headquarters, 1462 E. Ninth Street, Pomona, CA 91766
When: April 20th from 10 am to 3 pm
For more information and to register online go to: http://www.colemanspas.com/openhouse
Deadline to register is April 9, 2010
###