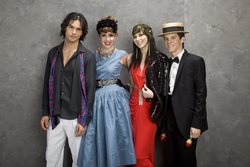 Los Angeles, CA (PRWEB) March 20, 2010
Prom season is almost here and right on cue, Fashionclub.com, FIDM/Fashion Institute of Design & Merchandising's website for teens, has launched their annual Prom Trends Forecast. This year the focus is on four fashion trends: relaxed elegance, old Hollywood glam, classic charm, and rocker chic, with iconic couples from the past serving as inspiration for each of the four looks.
FashionClub.com researched the upcoming season's most trend-savvy prom looks through predictive trend publications. The FIDM Library subscribes to over $100,000 worth of forecasting subscriptions in a single year—all of which are exclusively available to students at the fashion school.
Trend #1: Relaxed elegance is inspired by Daisy and Gatsby from F. Scott Fitzgerald's "The Great Gatsby" set in the 1920s. The look is sundrenched, airy, and elegant—sheer, beaded dresses, cascading pearls, and oversized hair accessories. Just look to "Gossip Girl" for the modern day equivalent.
Trend #2: Old Hollywood glam can best be seen on Humphrey Bogart and Lauren Bacall from the 1940s. Simple silhouettes in gem tones and subdued satins are the trademarks of this look—quietly understated like "Twilight's" Bella and Edward.
Trend #3: Classic charm is based on the lovable Lucy and Ricky Ricardo from the 1950s TV show "I Love Lucy." This look is marked by feminine, tea-length, cinched-at-the-waist dresses and boxy suits—as seen on today's cute indie couple Zooey Deschanel and Ben Gibbard.
Trend #4: Rocker chic is inspired by the edgy Mick and Bianca Jagger of the 1970s. Identified by long, clingy dresses and flashy accessories, Ashlee Simpson and Pete Wentz favor this look and continue to set new style boundaries.
FashionClub.com is able to showcase the hottest, up to the minute teen prom fashions by working with some of Hollywood's most stylish make-up artists, stylists, photographers and set designers, many of whom are graduates of FIDM's degree programs.
With four dynamic California campuses, FIDM/Fashion Institute of Design & Merchandising is the premier west coast fashion design college, educating for careers in fashion, graphic design, interior design, and entertainment. FIDM's graduates include renowned fashion designers like Monique Lhuillier, Emmy® and Academy Award® award-winning costume designers, top fashion industry executives, and entrepreneurs.
For more information and photographs from the Prom shoot, visit FashionClub.com or contact Clarissa Ramirez-Hamm at [email protected] or 213-624-1200, x5670.
# # #