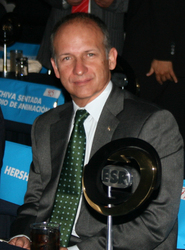 "We regard this as an achievement that demonstrates our commitment to be of service to society as executed by each and every person that is part of our company", said Eduardo Hernandez, CEO Grupo Caliente
San Diego, CA (PRWEB) March 19, 2010
The Caliente family of employees is very proud to announce that Grupo Caliente has been awarded with a distinction given by the Mexican Philanthropic Center (Centro Mexicano de la Filantropía (Cemefi)) for being a Socially Responsible Company.
Mr. Eduardo Hernández Triana, the CEO of Grupo Caliente, received the award at the ESR 2010 Awards Ceremony that took place on Wednesday, March 17th in the Terraza Virreyes Hall of the Camino Real Hotel in Polanco, Mexico City.
"We regard this as an achievement that demonstrates our commitment to be of service to society as executed by each and every person that is part of our company", said Hernández. "In this way we become a better company with the passing of each day."
Distintivo ESR ® is a recognition awarded annually in Mexico by the Mexican Philanthropic Center (Centro Mexicano de Filantropía (Cemefi) and AliaRSE. Such distinction not only adds value and profitability to the company's brand, it also recognizes the company for its employees, investors, clients, authorities and society in general as a socially committed company that publicly and voluntarily performs socially responsible activities as part of its culture and business strategy.
The reward of Distintivo ESR ® is based in an auto diagnostic process, substantiated with documentation provided by the company and verified by the Mexican Philanthropic Center (Centro Mexicano de Filantropía (Cemefi).
In México many prominent companies have earned this distinction. Wal-Mart, Cemex, General Electric, Coca-Cola FEMSA, Cerveceria Cuauhtémoc, Vitro, Sabritas, Bimbo, Ford Motor Company, Grupo URBI, Casas GEO, ADO, Expok, among others, have discovered the benefits of being socially responsible thru the achievement of obtaining the Distintivo ESR designation.
About Caliente
The Caliente Group (Grupo Caliente) is one of Mexico's largest gaming operations, offering a wide range of products and entertainment choices including live greyhound racing from its signature location at the Caliente Racetrack in Tijuana, Mexico. Additionally, the Caliente Group operates a network of simulcast thoroughbred racing OTB parlors, Vegas-style sports book centers, bingo halls and electronic gaming casinos.
The Caliente Group captures downloaded thoroughbred and greyhound racing signals from its simulcast partners (mostly in the U.S.) and then uploads them to rebroadcast over a very large satellite footprint that includes all of Mexico, Central and South America along with portions of Western Europe.
Caliente's Race & Sports Book OTB locations have shown robust growth, now numbering over 174 in Mexico with more Caliente locations operating in the following countries: Austria, Brazil, Ecuador, Panama, Paraguay, Peru, Uruguay, Venezuela and The Caribbean.
The full card racing programs from over 50 tracks are carried annually by Caliente. Those tracks include the major players in the thoroughbred world such as Santa Anita, Churchill Downs along with the NYRA tracks, California, Florida and Texas tracks. Additionally, there are broadcast agreements with tracks in the UK, Australia, Panama and Uruguay among others.
The Caliente book operation also features betting on major sports throughout its network of Race & Sports Book OTB locations. Sports signals and betting opportunities that are carried by Caliente include all of the major sports events in the U.S. – football, basketball, baseball and hockey – plus soccer from around the world along with auto racing, boxing, jai alai and other one-off special events.
The company's heritage dates all the way back to 1916 coming from the Agua Caliente Race Track, featured in the famous motion picture, Seabiscuit. Drawing from its extensive technological and labor infrastructure, Caliente provides race and sports book signals, tote and operational services to its vast Latin American and Western European network. Live greyhound racing is staged every day of the year at the Caliente racetrack. Bingo-based electronic games and traditional bingo halls are distributed among the most important cities in Mexico.
Caliente recently unveiled a $26 million upgrade to its existing Tijuana–based racetrack, renaming it the Caliente Casino. The new casino features slot machines, table games, Texas Hold'em along with live racing, race and sports books, shopping, and entertainment. Covering 228,000 square feet, the Caliente Casino is now the largest casino in Mexico.
Caliente, a Mexican Corporation, is the biggest gaming operation in Mexico, employing over 7000 people.
###