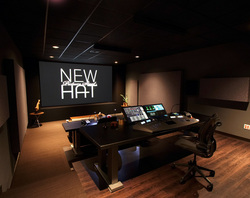 "We opened our company in the face of a terrible recession, and thankfully we've thrived. Being bold is part of our DNA, I guess, so we're inclined to stick with it."
Santa Monica, CA (PRWEB) March 19, 2010
"We opened our company in the face of a terrible recession, and thankfully we've thrived," said Partner and acclaimed Digital Colorist Bob Festa of New Hat (newhatcolors.com), the nonlinear style color correction boutique he co-founded with Partner/Executive Producer Darby Walker last year. "Being bold is part of our DNA, I guess, so we're inclined to stick with it." New Hat recently completed the build-out of its million-dollar Digital Intermediate (DI) Theater, opening the door to the full spectrum of feature film work.
The company, which is home to digital colorists Festa, Beau Leon, and Marcelo Aprile, has brought on Feature DI Colorist Michael Mintz, a veteran of more than 40 feature films, collaborating with filmmakers such as Ridley Scott, Paul W.S. Anderson, and Michael Cuesta. The first project under way at the New Hat DI Theater is the indie feature "Lucky," directed by Gil Cates, Jr. The film stars Colin Hanks, Jeffrey Tambor, and Ann-Margret.
The announcement comes on the heels of recently completed New Hat color correction projects for Hyundai, Toyota, Lifestyles Condoms, HBO, Kings of Leon, Chase Bank, India.Ari, C&A (featuring Fergie), the documentary "Sister Corita," the high-profile Brazilian feature, "O Bem Amado," and a special film celebrating the Iacocca Silver 45th Anniversary Edition Ford Mustang. New Hat's recent credits also include digital color correction on two 2010 Super Bowl spots, Dockers "No Pants" and Lexus "Act Naturally," the White Stripes documentary "Under White Northern Lights," and director Joseph Kahn's stirring, star-studded "Everybody Hurts" music video for Helping Haiti.
The DI Theater, equipped with Baselight 4 color grading system, 14' Stewart Screen, Barco 2k projector, and Blue Sky 5.1 audio, promises a state-of-the-art experience both technically and in terms of client services. "In these tough times, very few companies remain dedicated to providing the best service and atmosphere while sustaining a very competitive bottom line," said Mintz, noting that the market for DI features is in flux. "A few years ago, the bigger facilities were the only ones who were doing it, then capabilities expanded and budgets contracted," he said. "So now you have the costly facilities on one end and mom-and-pop shops with lower end gear and reduced rates on the other. The New Hat DigitaI Intermediate Theater provides the quality of a big facility but without the prohibitive cost."
Before joining New Hat, Mintz worked at Tunnel Post, iO Film, and The Sony HD Center. A longtime admirer of Festa's work, he began discussions with New Hat about a DI Theater as soon as the company opened. "I met with Darby and began four-walling out of New Hat on some music video projects," he recalled. "I quickly grew fond of facility and people who were working here." He also found that Festa, Walker, and their staff refuse to lower their standards regardless of budgetary or other constraints. "You will get a great product no matter what," he said, "and that was something I knew would translate to the DI Theater. There are many places to do DI, and what sets us apart is talent, quality, and customer service."
For its part, New Hat was eager to channel its nonlinear approach into the feature world, which has unique requirements for digital color correction. "The breadth of New Hat's talent and capabilities opens the door to all kinds of projects," said Walker, "from movies to feature restoration, trailers, and commercials that will be screened in theatrical release."
Joining the New Hat team in support of the DI Theater are Senior Producer Wyatt Valentine and Producer Stuart Heising. Valentine has worked with some of the most talented and respected artists and producers in post production; at Encore Santa Monica, later known as R!OT, he served as a telecine assist, graphics assist, dub center manager, operations manager, director of scheduling, and director of operations. He also worked at Bobine and was on the management team at The Post Group Hollywood. Prior to joining New Hat, Heising enjoyed tenures at Hollywood Digital and Hollywood Digital West, as director of operations, and later as an in-house visual effects producer at both HD West and R!OT.
"Our team and our technology are completely in sync. Clients that come to New Hat immediately notice the difference," observed Festa, recalling the company's Brazilian-themed launch party in September - Brazil is Aprile's home country, and the company maintains a relationship with Estudios Mega (City of God, Sony, Fiat, Honda), a top full-service post house in Rio and Sao Paulo. "We're proud to be a part of the post production scene on a global scale and, now, the LA filmmaking culture."
Of the company moniker, Festa mused, "There's a bravery to buying a new hat - you hope people will like it but you have the confidence to wear it regardless. And, of course, your New Hat is where your ideas will live."
# # #