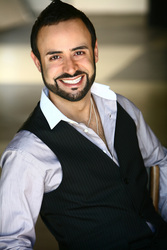 Los Angeles, CA (PRWEB) March 20, 2010
Time is running out to enter FIDM's/Fashion Institute of Design & Merchandising annual National Scholarship Competition. Open to high school seniors and graduates, students enter to win a full one-year scholarship to attend FIDM. A total of six awards are given—each is valued at up to $27,000. The competition deadline is April 30, 2010.
To enter, students must submit a project according to the guidelines set within each of the six categories: Fashion Executive of Tomorrow, Interior Designer of Tomorrow, Graphic Designer of Tomorrow, Fashion Designer of Tomorrow, Visual Designer of Tomorrow, and Digital Media Artist of Tomorrow.
FIDM Instructor, Project Runway star, and FIDM Graduate Nick Verreos is the celebrity judge for this year's Competition. FIDM is looking for creativity, thoughtfulness, presentation, and promise. Last year's winner in the Fashion Design category, Nate Braun, submitted his designs in 3D cutouts. Hillary H. won the Fashion Executive category with a marketing plan for a grand opening of a department store. The winner of the Interior Design category, Maelee L., drafted a floor plan for a loft, replete with fabric samples and furniture selections.
The talent of FIDM National Scholarship Winners is immense. Former recipient Leanne Marshall graduated from FIDM in 2001 and went on to win Project Runway: Season 5 in 2008.
To enter, go to fidm.edu/about/scholarship-competition. The competition deadline is April 30, 2010. All entrants must be either a U.S. Citizen or have permanent residence status.
With four dynamic California campuses, FIDM/Fashion Institute of Design & Merchandising is the premier west coast fashion design college, educating for careers in fashion, graphic design, interior design, and entertainment. FIDM's graduates include renowned fashion designers like Monique Lhuillier, Emmy® and Academy Award® award-winning costume designers, top fashion industry executives, and entrepreneurs.
# # #