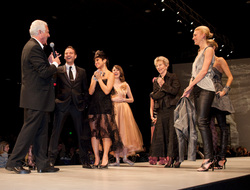 Los Angeles, CA (PRWEB) March 31, 2010
GUESS and FIDM/Fashion Institute of Design & Merchandising are excited to announce the winner of GUESS Design Challenge 2010, an exclusive competition created for graduating students in FIDM's Advanced Fashion Design program.
Ten students had the amazing opportunity to design and present one denim-focused look each to GUESS executives, including Maurice Marciano, Co-Founder of GUESS?, Inc. Mr. Marciano personally selected the winner, Brittany My Linh Vu. She was offered the position of Design Assistant with the GUESS?, Inc. design department, as well as the opportunity to be involved in each step of the production process of her winning design, which will be incorporated into an upcoming season.
"One of our strengths at GUESS is keeping our brand relevant to the ever-evolving consumer and in order to do so, we must find young and innovative talent, such as the highly gifted students we are partnering with at FIDM," said Maurice Marciano.
For many years GUESS has been one of FIDM's industry partners, working closely with the fashion college's Career Center to recruit students. "Today we have 74 graduates from FIDM working for us full-time in great positions. FIDM has been a well of creation and innovation," said Mr. Marciano.
The looks were presented to GUESS executives at FIDM's DEBUT 2010 Runway Show, an annual event where students in FIDM's third-year Advanced Study program showcase their collections on the runway. The event attracts more than 10,000 people in three days, including many industry notables.
With four dynamic California campuses, FIDM/Fashion Institute of Design & Merchandising is the premier west coast fashion design college, educating for careers in fashion, graphic design, interior design, and entertainment. FIDM's graduates include renowned fashion designers like Monique Lhuillier, Emmy® and Academy Award® award-winning costume designers, top fashion industry executives, and entrepreneurs.
###