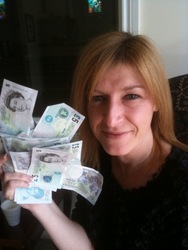 UK weight loss group gives Americans one British pound for every pound of weight they lose
Plano, TX (PRWEB) March 20, 2010
Think about the money you've spent over the years trying to get thin. Here's a switch: a weight loss group is paying its members to slim down.
The program is called "Pounds for Pounds" and it's being offered by Slimming World, the largest weight loss organization in the UK. After 40 years of success in Great Britain, it recently began opening groups in the United States.
Here's how it works:
For three months members will weigh in at the beginning of their weekly group meetings and will be given one British pound for each pound of weight they lose. If they choose, they can receive the money in US currency (about $1.50). There's absolutely no catch.
"We want to spread the word and we thought this was a really ingenious way to let people know about this UK success story," says Slimming World consultant Yvonne Sanders. "We know our system works. We've helped more than 5-million people in Great Britain over the years and we're so confident that Americans will achieve the same results, we're putting our money where our mouth is. When we say 'It pays to lose weight,' we really mean it."
Slimming World knows the 3-month program will cost a small fortune but it's betting that once people start losing weight, they'll become walking advertisements for the plan.
Alma Hall from Flower Mound, Texas was so thrilled with the support she received while losing 40 pounds in just three months, she decided to join the company as it's first American consultant.
"Each week the whole group supports and inspires each other with lots of recipe ideas and tips," Alma explains. "It works because you quickly find a second family with the others. We laugh and have fun and you find yourself looking forward to the meetings and to encouraging one another."
The company's philosophy is simple: fill up on healthy foods like pasta, potatoes, lean meats, fruits and vegetables and you won't be hungry for anything else. No foods are banned under the plan. It just encourages moderation when it comes to consuming fatty and sugary foods. There are no pills, potions or pre-made meals to buy.
The idea of paying people to lose weight has been studied. A 2009 University of Pennsylvania study found that over the course of 16 weeks, people in the weight loss group without any financial incentives had only lost 4 pounds, while those who were dieting for dollars lost an average of 13 pounds.
For interviews and video/photo opportunities:
Yvonne Sanders
(cell) 972-480-4319
yvonne(dot)sanders(at)slimming-world(dot)com
http://www.slimmingworldusa.com
# # #