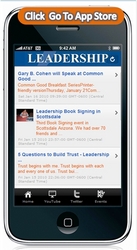 The Just Ask Leadership iPhone Application supports business knowledge that is essential for leadership development in the US and abroad.
Minneapolis, MN (Vocus) March 25, 2010
Under the category of business, Just Ask Leadership IPhone App, derived from the best-selling book Just Ask Leadership by Gary Cohen, ranks in the top 200 applications in the US among other countries.
The Just Ask Leadership iPhone Appf you want to distribute that release as well is a free application that provides its subscribers with interviews with business experts conducted by its originator, Gary Cohen. "This is an application that I have recommended to business parters for brushing up on everyday leadership skills. The author is straight to the point and the information is fresh," a reviewer of the Just Ask Leadership iPhone Application.
The application is linked to Gary Cohen's leadership blog which is continually ranked as one of the Top Leadership Blogs in the US.
The Financial Times reports that "with 190m people using smartphones, many workers will already be app enthusiasts and they won't be leaving these phones at home during work hours. They will be trying out useful apps to keep them informed about business news, updating their LinkedIn profile and Twitter account, and synchronizing business e-mails with these devices."
The Just Ask Leadership iPhone Application supports business knowledge that is essential for leadership development in the US and abroad. Downloaded in more than 10 countries, this application has received rave reviews by professionals from all work environments across the globe.
About Gary Cohen
In 1987, Gary co-founded a company with $4,000 in start-up money. Over the years the company grew from 2 to 2,200 employees. During the start-up phase, Gary and his business partner hired a consultant to guide them through the process. Though the consultant charged more money than the two partners were making at the time, they made the investment because they recognized the value of expert advice.
Gary is convinced ACI Telecentrics, Inc. never would have become the 25th largest call center outsourcer in the United States without the consultant's help. After 18 years of leading a company in an industry that went from go-go to no-go, Gary has experienced the entire corporate life cycle and weathered the constant up-and-down transitions. "City Business," a Minneapolis/St. Paul publication, distinguished Gary as one of their "40 under 40" award winners.
Besides serving on the board for ACI Telecentrics, Gary has been a board member of 9 different corporations, ranging from non-profit organizations to financial institutions.
The insight gained from real-world experience gives him a true understanding of the issues other entrepreneurs are working to resolve. Gary has the skills and the empathy to guide his clients through the pitfalls of entrepreneurial leadership.
Gary received his undergraduate degree from the University of Minnesota and attended Harvard Business School. He has participated in several leadership programs at institutions including the Covey Leadership Center and Disney University and the Aspen Institute as a Crown fellow.
Gary is based in Minneapolis, Minnesota.
To learn more about Gary, visit http://www.co2partners.com.
About Just Ask Leadership
In his brilliant new book, Just Ask Leadership: Why Great Managers Always Ask The Right Questions, successful business entrepreneur and Leadership Coaching guru, Gary B. Cohen, practices precisely what he preaches from the turn of page one through each of the 178 following revealing and inspirational pages.
This dynamic book asks many thought-provoking questions. Questions that can uncover the qualities that can make a good leader, a great leader.
Just Ask is for anyone who leads - from small businesses to Fortune 1000 giants - because they are all in a position where they are expected "to get things done."
To learn more about Just Ask Leadership, visit http://www.co2partners.com/executive-coaching/just-ask-leadership/index.html
To learn more about the Just Ask Leadership iPhone Application, visit http://www.itunes.apple.com/au/app/just-ask-leadership/id353242852?mt=8.
Press Contact
Dawn Baron
Authors With Impact c/o Passion Profits Consulting
dawn(at)passionprofitsconsulting(dot)com
703-434-9306
http://www.passionprofitsconsulting.com
###