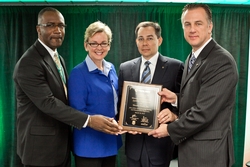 As part of our 'go anywhere, do anything' plan to convince companies to bring business and jobs to Michigan, we met with Terumo officials in Japan.Terumo is a perfect example of a company enjoying success in Michigan, said Governor Jennifer M. Granholm
Ann Arbor, MI (PRWEB) March 19, 2010
Dignitaries from statewide government offices and local business leaders today joined senior executives at Terumo's Ann Arbor campus to unveil the recently completed state-of-the-art manufacturing plant and expanded headquarters that has led to local job growth and reinforced the medical device company's commitment to Ann Arbor and the state of Michigan.
Terumo's operations have been part of the Southeastern (SE) Michigan medical device industry since the 1960s. Today, the campus serves as the corporate headquarters for two Terumo Corporation U.S. subsidiaries, Terumo Cardiovascular Systems and Terumo Heart, Inc. As a recipient of a 2008 Michigan Economic Growth Authority (MEGA) Grant, Terumo was able to transfer research, development and manufacturing operations from its plant in Tustin, California to its Ann Arbor campus. In the 18 months since receiving the grant, Terumo has nearly met the five-year hiring requirements by creating 63 new positions with additional positions expected in 2010. Terumo has also built a new chemistry lab, remodeled the existing buildings to suit the growth of the businesses, and added a significant addition to one of the office buildings. In addition, Terumo Heart has expanded their office space, hired new employees, and created a new world-class medical device manufacturing facility onsite.
"We are delighted that distinguished members of our state and local government and business leadership could join us today to celebrate our growth as evidenced by our new facility and manufacturing plant,"
says Mark Sutter, President and CEO, Terumo Cardiovascular Systems, "Terumo shares a long,
successful history with Ann Arbor and the Southeastern Michigan community. The MEGA grant has certainly increased our ability to drive current and future growth, which benefits us all."
Both companies are focused on the research and development of world-class, life-saving medical device technology that benefits patient suffering from heart disease and serves the needs of the healthcare providers who treat them. Heart disease is the number one killer of men and women worldwide.
"At Terumo Heart, we're focused on advancing the pivotal clinical trial that we hope will lead to U.S. Food & Drug Administration approval of our next-generation DuraHeart™ Left Ventricular Assist System, which is designed to provide sustained quality of life to patients with late-stage heart failure until a suitable organ transplant can be located," says William Pinon, President and CEO, Terumo Heart. "Our new state-of-the-art manufacturing plant not only brings local prosperity, but allows us to produce a better product in a more efficient way."
According to Sutter and Pinon, this expansion creates an even stronger, mutually beneficial relationship between Terumo and the business community in Southeast Michigan that includes a stable, local work force in all job sectors: managerial, professional, technical, clerical and manufacturing, as well as increased outsourcing opportunities for local service businesses.
"As part of our 'go anywhere, do anything' plan to convince companies to bring business and jobs to Michigan, we met with Terumo officials in Japan," Governor Jennifer M. Granholm said. "Terumo is a perfect example of a company enjoying success in Michigan in one of the economic sectors we've targeted to diversify the state's economy."
About Heart Disease and Heart Failure
Heart disease is the leading cause of death for both men and women worldwide and one of our greatest healthcare expenses, with a projected cost in 2010 of more than $316 billion in the United States alone. The most common form of heart disease is coronary artery disease, the failure of the coronary circulation to provide adequate blood flow to the heart itself. Heart failure, which affects more than 22 million people worldwide, is the number one reason for hospitalization. The most severely ill patients need heart transplants in order to recover. More than 8,000 people worldwide are on the list of eligible candidates for heart transplants annually, but less than 3,000 will receive a transplant each year. A large number of people who suffer from severe heart failure do not qualify for transplantation due to other health issues. An alternative for these patients is access to artificial mechanical assist devices. Left Ventricular Assist Systems are a type of mechanical circulatory device specifically designed to improve the quality of life of the patients waiting for donor hearts, as well as those who are ineligible for a heart transplant.
About Terumo Cardiovascular Systems Corporation
Terumo Cardiovascular Systems Corporation is a global manufacturer and marketer of medical devices for cardiac and vascular surgery. The company is headquartered in Ann Arbor, Michigan with manufacturing operations in Ann Arbor; Elkton, Maryland; and Ashland, Massachusetts. For more information, visit http://www.terumo-cvs.com.
About Terumo Heart, Inc.
Terumo Heart, Inc. is a U.S. subsidiary of Terumo Corporation with headquarters and manufacturing facilities in Ann Arbor, Michigan. The company's focus is the innovation and introduction of products to improve the quality of healthcare for heart failure patients. Terumo Corporation, located in Tokyo, Japan, is a leading developer, manufacturer and global marketer of a wide array of medical products. DuraHeart is limited to investigational use only in the United States, and is CE marked in Europe. For more information visit http://www.terumoheart.com.
###