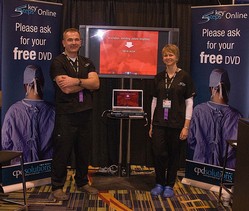 Video continuing education is now available for US veterinarians
(PRWeb UK) March 21, 2010
Keysteps Online for veterinary surgeons was established 5 years ago to provide high quality video veterinary CPD that vets could access via the internet. Keysteps Online Website.
RACE is a US national clearing house for the approval of continuing education providers and their programmes. CPD Solutions, the UK veterinary CPD company that provides the Keysteps Online service is now a RACE-approved provider. CPD Solutions Website.
There are currently in excess of one hundred video continuing education programmes on Keysteps Online for veterinary surgeons, covering topics relevant to small animal practitioners. Subjects are divided into 6 channels including Surgery, Medicine, Exotics, Surgical Resources and Business Skills. Vets watch the videos featuring leading experts in the subject, read the accompanying study notes and complete the self assessment quiz. Each programme provides one hour of CPD.
In the US, veterinarians complete continuing education (CE) rather than continuing professional development (CPD). An initial series of Keysteps Online programmes has now been approved by RACE as one hour of CE each for veterinarians.
Susie Coughlan, Managing Director of CPD Solutions, comments: 'We are very excited that Keysteps Online has been approved by RACE. This development provides access to a unique educational service for US veterinarians. They will now be able to enjoy the same benefits as our UK and European subscribers.'
Susie continues 'We will also be looking at approval for the Veterinary Nurse Keysteps Online site. There are some language challenges here, starting with the fact that VNs are called veterinary technicians in the US. On our recent visit to the North American Veterinary Congress in Orlando, technicians were particularly interested in Keysteps Online.'
Veterinary surgeons, veterinarians, veterinar nurses and technicians can all evaluate Keysteps Online in a free trial at the website. For more information please contact Susie Coughlan of CPD Solutions.
###