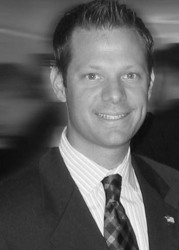 Two years ago, we achieved success in our Houston office
Denver, Colorado (Vocus) March 24, 2010
Advanced Systems Group (ASG), the Denver-based IT consulting, integration, and project management firm, today announces it has hired Joshua Wagner as the Regional Manager in its TOLA region and Emily Arbuckle as the region's newest Account Executive.
The new hires continue an expansion of the TOLA region part of ASG's strategy to help clients in the region expand virtualization efforts while addressing current IT challenges such as reducing complexity and cost.
"Two years ago, we achieved success in our Houston office," says ASG Vice President of Sales, Patrick Smith. "Manufacturers often group Texas, Oklahoma, and Louisiana together as a sales region, called 'TOLA', so we added four new offices in Louisiana and Oklahoma within the last year. These new offices have already begun to thrive—our company experienced a 32 percent increase in its customer base last year— so hiring a regional manager and another talented account executive is the next logical step."
Joshua Wagner has over fifteen years of experience in working in sales in the Houston market. Throughout his sales career, Wagner has established a history of building successful sales teams, and managing all levels of sales personnel from beginning sales staff to senior executives.
As the TOLA Regional Manager, Wagner joins an experienced team in Houston. He'll work to strengthen partnerships with key vendors and groom the sales team to complement the engineering team. Josh will work together with Don Lukasek (Regional Solutions Architect) and continue to build the Houston office as a regional hub and knowledgebase for the TOLA region. As TOLA Regional Solutions Architect, Don Lukasek, describes the team, "Our resources collaborate across the region with their peers and partners to provide proven technical solutions. It's the perfect complement of consulting, engineering and proven integration experience that set us apart."
Emily Arbuckle joins the ASG TOLA team as an Account Executive located in Dallas, reporting to Josh Wagner. Arbuckle has a wealth of experience in sales, multiple vender certifications and proven experience in technical solutions development. Her consulting style complements our existing presence and provides even greater knowledge in the area.
Smith explains, "We've been developing our presence in the TOLA region, adapting to each market and answering the call for a capable IT solutions provider. Organizational strength and financial stability are crucial in these economic times. This stability allows our teams to invest time understanding our client's needs and ensuring a long term partnership."
ASG is a leading provider of enterprise IT consulting, architecture services and complete IT infrastructure solutions. As a consistent member of the VAR Business Top 500, ASG pursues active involvement in the industry, maintaining the highest level of engineering certifications with partners and the vendor community.
About Advanced Systems Group (ASG)
Since 1981, Advanced Systems Group (ASG) has provided complete Information Technology (IT) solutions including comprehensive consulting services, successful storage and data management solutions, assessments and implementation services. In particular, ASG focuses on customer needs, customizing unique solutions and successfully addressing their particular IT challenges. Headquartered in Denver, Colorado, Advanced Systems Group (ASG) also has offices throughout the western and southern United States including, Boise, Colorado Springs, Los Angeles, New Orleans, Baton Rouge, Houston, Dallas, Oklahoma City, Tulsa, Orange County, Phoenix, Portland, Seattle, Salt Lake City, and San Diego. To learn more, visit http://www.virtual.com.
###