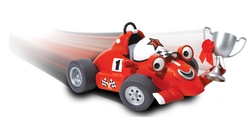 Roary is picking up a lot of momentum in licensing, as the engaging characters and built-in play pattern lend themselves so well to pre-school toys
New York, NY (Vocus) March 23, 2010
Chapman Entertainment and HIT Entertainment have entered into a licensing deal with K'NEX® Brands, an international leader in the construction toy industry, granting them the rights to manufacture and market a full line of construction toys based on the award-winning international sensation, Roary the Racing Car™. Under the terms of the deal, K'NEX will produce Roary™ building sets, including buildable figures and buildable vehicles utilizing the popular and award-winning K'NEX interlocking parts. These sets will be available at all leading mass retailers in the US and Canada from Fall 2011.
This follows on the heels of the news that a full line of Roary the Racing Car™ toys will be available exclusively at Toys"R"Us stores in Fall 2010 from US master toy partner, Bandai America.
"Roary is picking up a lot of momentum in licensing, as the engaging characters and built-in play pattern lend themselves so well to pre-school toys," said Gary Krakower, SVP, Consumer Products and Live Events, HIT Entertainment. "The show has proven to be a top performer on broadcast and a favorite section of sproutonline.com and we fully expect the new line from K'NEX to speed off the shelves!"
"Roary's popularity and appeal made it easy for K'NEX to race toward this partnership," said Michael Araten, President & CEO of K'NEX Brands. "We are delighted to add Roary the Racing Car to the K'NEX product line so that children can imagine, build and play with one of their favorite characters."
Andrew Haydon, Commercial and Finance Director, Chapman Entertainment commented, "It's go, go, go with Roary the Racing Car across the Atlantic. We are very excited about this new partnership with K'NEX, and we welcome them into the Roary family."
Narrated in the US by Indy and NASCAR racer, Sam Hornish Jr., Roary the Racing Car™ was launched exclusively in the US on 24-hour pre-school television channel Sprout® in Fall 2008.
About Roary the Racing Car
Roary the Racing Car is a turbo-charged pre-school series that follows the adventures of Roary™, a bright, loveable and energetic single-seater, and his amazing and diverse group of racing car friends at Silver Hatch race track. Roary's™ enthusiasm and curiosity often leads him into trouble, but he's a novice with a heart of chrome under his hood, always willing to make amends. Children join Roary™ on his journey, learning lessons as they go: how to do the right thing, how to be positive and helpful to others, road safety, the environment, ways to share and communicate, problem-solving and the importance of exercise and healthy living. The series uses a cutting edge combination of CGI, stop frame animation and colorful sets to convey a real sense of speed with all the thrills and spills of the race track. For more information, please visit http://www.roarytheracingcar.com
About HIT Entertainment
HIT Entertainment is one of the world's leading independent children's entertainment producers and rights-owners. HIT's portfolio includes properties, such as Barney™, Bob the Builder™, Thomas & Friends™, Pingu™, Fireman Sam™, Angelina Ballerina™ and Rainbow Magic™. HIT represents Chapman Entertainment's Fifi and the Flowertots™ and Roary the Racing Car™ in North America, as well as Wallace & Gromit™, Shaun the Sheep™, Timmy Time™ and Aardman Classics from Aardman Animations. HIT also acts as representative for The Wiggles® in the UK. Launched in 1989, HIT's lines of business span television and video production, content distribution, publishing, consumer products licensing and live events and has operations in the UK, US, Canada, Hong Kong and Japan. HIT is a part-owner of US-based preschool channel, PBS KIDS SproutSM, and international preschool channel JimJam, (outside of the US, UK and China). For more information, visit http://www.hitentertainment.com.
About K'NEX Brands
Founded in 1992, K'NEX Brands was established to make and sell what has become one of the world's leading integrated construction systems for children. Winner of over 200 international awards and recognitions, K'NEX seeks to build young minds with its exciting product line and critically acclaimed K'NEX Education program. For more information, please visit http://www.knex.com.
About Chapman Entertainment
Chapman Entertainment was founded by Managing Director, Greg Lynn, Creative Director, Keith Chapman – the originator of Bob The Builder and Fifi and the Flowertots – and Commercial and Finance Director, Andrew Haydon. It is a rapidly growing company specializing in the creation, production and IP management of original, quality children's and family entertainment properties. Creativity is key to the company which is evident through its first hit series, Fifi and the Flowertots, and there are a raft of other projects already under way including BBC acquisitions Rah Rah the Noisy Lion and Little Charley Bear. For more information, please visit http://www.chapmanentertainment.co.uk.
To download artwork, please visit http://www.hitnewsonline.com.
For more information:
For HIT Entertainment:
Denielle Webb
T: 646-277-5216
For Chapman Entertainment:
Cassandra Sananes, Head of PR
T: +44 (0) 208 8777 410
For K'NEX Brands:
Aimee Cirucci
T: 215-996-4209
###