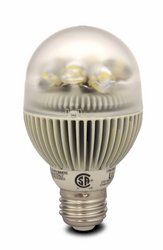 Van Nuys, CA (PRWEB) March 22, 2010
Matrix Lighting will be showcasing VIRIBRIGHT LED Light Bulbs at the following upcoming lighting shows:
Light + Building 2010 (April 11-16, 2010) - Booth No. 10.1, Hall c70th, Messe Frankfurt Exhibition GmbH, Frankfurt, Germany
Hong Kong International Lighting Fair 2010 (April 13-16, 2010) - Booth 5FF04-10 & 5FG03-09, hong Kong Convention and Exhibition Center, Hong Kong, China
107th China Import/Export Fair (April 15-19, 2010) - Booth A9-12 & B13-16, Hall 9.3, Pazhou Complex, Guangzhou, China
VIRIBRIGHT is a competitively priced LED light bulb offered as a true environmentally conscious alternative in lighting compared to standard incandescents and CFL bulbs on the market today.
VIRIBRIGHT LED bulbs use 80-90% less energy than an incandescent bulb, significantly reducing power consumption, helping to achieve global energy conservation goals. LED bulbs generate very little heat transferring most of their energy directly into light eliminating excessive heat buildup that can adversely affect energy costs.
The VIRIBRIGHT bulb is the same size as a conventional incandescent bulb suitable for direct replacement in any indoor open fixture. The bulbs are designed with standard light bulb bases, so they'll fit into just about any lighting fixture you already have.
VIRIBRIGHT LED light bulbs provides you with 270 degrees of light and can last you over 10 years at an average use of 5 hours per day for 18,000 hours.
Matrix Lighting Inc. is a subsidiary of Matrix Holding Limited. Matrix Holdings Limited was established in 1979 and has been listed on the Hong Kong Limited Stock Exchange since 1994. Matrix Holdings Ltd. has factories in China and Vietnam with a total of over 20,000 employees worldwide.
Matrix Lighting Inc. concentrates its business on the development of LED lighting and manufacturing. Matrix Lighting has a development team of 150 staff members on research and development of LED drivers, heat management, optics, mechanical and lamp design. Our mission is to be innovative through new designs that encompass an array of direct incandescent lamp replacement LED bulbs for every traditional emerging lighting market and to produce the highest quality products at incredible value. Matrix Lighting has LED lamp manufacturing plants in China and Vietnam.
# # #