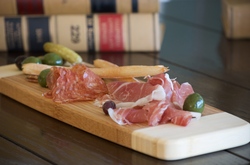 "I wanted to create a menu with something for everyone," said Chef Michael Reardon.
Santa Monica, CA (PRWEB) March 22, 2010
Santa Monica's renowned Hotel Casa del Mar presents an innovative, yet comfort-filled and familiar, new wine bar and menu at Catch Restaurant & Wine Bar. The new menu concept focuses on shared plates including "Not So Big Plates;" "Bigger Plates;" sushi, sashimi and rolls; salads; charcuterie; grass-fed steaks and sides. The redesign of the lively wine bar space offers guests a perfect place to grab a quick bite and taste a wine from the extensive wines-by-the-glass program or to stay and linger for a full dinner, all while enjoying the best views of the ocean in Santa Monica.
"I wanted to create a menu with something for everyone," said Chef Michael Reardon. "We offer simple, yet comforting items like the Grilled Cheese Slider and Soup and cuisine with more complexity such as Grilled Octopus with Potatoes and Capers. Even the wine choices reflect the adaptable dining options, from the glass, to the carafe, to the bottle. Pop in to share a small plate or meet friends for a longer meal."
Reardon has always been well known for his "market fresh" cuisine that is complemented by one of the most idyllic settings in Santa Monica. His talent for using seafood shines through the menu with smaller dishes such as Gulf Prawn Flatbread with Pesto and Oven-Dried Tomatoes; Little Neck Clams with Chorizo and Grilled Bread; and Dungeness Crab with Watercress, Snap Peas and Tangelos. His "Bigger Plates" offer pastas such as Handmade Paparadelle with Braised Veal and Wild Mushrooms and dishes large enough to share such as the Pan Roasted Diver Scallops with Savoy Cabbage, Porcini and Oxtail Jus and Scottish Salmon with Baby Artichokes, Blue Lake Beans and Lemon. For steak lovers, Reardon dedicates a section of his menu to beautiful grass-fed cuts of meat such as Filet Mignon with Bloomsdale Spinach and Garlic, Bone in Rib Eye with Roasted Onions, and Skirt Steak with Salsa Verde, always elegantly spiced and cooked to perfection. Reardon visits the neighboring farmer's markets regularly, drawing inspiration from local ingredients and bringing vibrant colors and tastes to every plate he serves. With a large selection of small plates ranging from $7 to $13, there are many competitively priced options. Larger plates also represent good value, perfect for sharing, and range from $15 to $29, with steaks from $19 to $39 for a 12-ounce Filet Mignon. Classic cocktails are $11 to $12. Almost forty choices of wines-by-the-glass are offered with prices ranging from $10 to $18 and by the carafe from $15 to $31.
The design of Catch Restaurant and Wine Bar pays homage to its spectacular setting on the shore, three stories above the beach with floor to ceiling windows. In the daytime the scene is dynamic with beach and boardwalk activity and at night the jeweled lights dazzle. A color palette of dark chocolate wood, cerused oak floors and creamy woven leather chairs provides a rich background for the bright cuisine. The interplay of textures throughout the space – sea glass green shagreen, woven twigs and textured porcelain – dazzles the eye. At the center of the restaurant is a large rectangular bar, inlaid with mother of pearl tiles, where the wine bar, with its extensive wine-by-the-glass and carafe program, adds a fresh note to the inspired menu of "market fresh" cuisine.
Catch Restaurant originally opened in March 2007 on the Santa Monica shore with the talented Executive Chef Michael Reardon at its helm. Chef Reardon honed his skills at Le Bernardin in New York before opening his own restaurant in New York State, Bistro Zella, and then in California at Napa Valley's Tra Vigne Ristorante Cantinetta and Wine Bar where he was executive chef. He has been the Executive Corporate Chef at ETC Hotels, including Santa Monica's Hotel Casa del Mar, since February 2006.
Catch Restaurant & Wine Bar is located at 1910 Ocean Way in Santa Monica, Calif. It is open for lunch from 11:30am to 3:00pm daily and for dinner from 6:00pm to 10:00pm daily. Please call (310) 581-7714 for reservations or visit the website.
About Hotel Casa del Mar
Originally built in 1926 as the grandest of the opulent beach club hotels and the premier playground for Hollywood 'A-listers,' Hotel Casa del Mar re-emerged in October 1999, following a $50 million restoration by Edward Thomas Hotels, parent company to Casa and its sister property, Shutters on the Beach. True to its indulgent past, Hotel Casa del Mar remains as one of the most well-appointed addresses on the West Coast, with luxurious décor evoking the grandeur and elegance of a European coastal experience. Known for its sophisticated accommodations and stylish public spaces, an indulgent and relaxing ambiance and extraordinary service and privacy, the beachfront escape provides 129 beautifully appointed guestrooms, including 17 suites, and panoramic views of the Pacific and Southern California shore. The signature restaurant, Catch Restaurant and Wine Bar, offers innovative "market fresh" cuisine and spectacular vantages of picturesque sunsets in a comfortably elegant setting. A member of The Leading Hotels of the World, Hotel Casa del Mar is located at 1910 Ocean Way in Santa Monica, Calif., only 20 minutes from Hollywood, Beverly Hills and Los Angeles International Airport and adjacent to the historic Santa Monica Pier. For reservations or more information, guests of Hotel Casa del Mar can call (310) 581-5533 or (800) 898-6999, or visit http://www.hotelcasadelmar.com.
Murphy O'Brien, Inc.
Stacey Copeland 310-586-7120
Leah Goldstein 310-586-7124
Jenna Newmark 310-586-7131
###