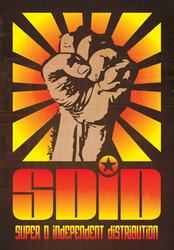 "SDID has a tremendous track record with international partners..."
Irvine, CA (PRWEB) March 22, 2010
Super D Independent Distribution ("SDID"), a division of Super D, the Worldwide Music Wholesaler, announces today that Sound Pollution has joined its exclusive distribution family of labels for the United States.
Sound Pollution Distribution AB is one of Scandinavia´s biggest independent music distributors with in-house labels such as Black Lodge and Wild Kingdom. Sound Pollution has come a long way since the start almost a decade ago. The company now represents around 100 domestic and international labels in its home country Sweden and has charted many releases over the years.
"Sound Pollution represents several Swedish and international record labels in many territories through our network of distribution partners and we are now very pleased and excited about our new deal with Super D that now will distribute our catalogue physically in the US," says Sound Pollution Managing Director Johan Hargeby
Formed in July 2007, SDID represents a wide variety of labels and distributors to retailers, wholesalers and consumers worldwide. SDID received the NARM Small Distributor of the Year Award in 2008.
"SDID has a tremendous track record with international partners throughout its history," states Tim Hinsley, General Manager of SDID. "We expect to have great success with Sound Pollution's potent new releases and catalog."
Artists on Sound Pollution include some of the greatest names in Scandinavian metal, including Hellfueled, Crazy Lixx and Sabaton. SDID will begin releasing new titles in April 2010, including new albums from Mean Streak and Outshine.
About Super D:
Super D is the largest worldwide distributor of pre-recorded music and video, stocking 363,892 unique titles from over 24 countries. Super D is a privately held California Corporation based in Irvine, California. More information about Super D is available at http://www.sdcd.com.
Contact:
Jocelynn Pryor
Super D - Director of Marketing
17822 Gillette Ave., #A
Irvine, CA 92614
(P) 949.225.1170 xt 411
# # #