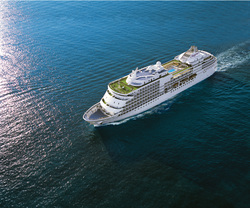 This golf lover's luxury Bermuda golf cruise is an ideal vehicle for golf clubs to establish closer bonds with their members, greater loyalty and effective promotion that attracts new club members.
Bethlehem, PA (PRWEB) March 23, 2010
GolfAhoy Travel Ambassador Kaustuva Mukherjee launched the promotion of a GolfAhoy Golf Cruise aboard the intimate and luxurious six star all suite 490 guest yacht Regent Seven Seas Navigator sailing a 10 day Bermuda & Colonial South itinerary from Ft. Lauderdale on April 15th, 2011.
Mukherjee announced the Bermuda golf cruise at the 22nd Annual Food, Wine & Club Products Show to benefit The New Jersey Club Foundation Scholarship Fund at Maplewood country club, Maplewood, NJ.
The show was attended by over a hundred Club Managers, Chefs, Food & Beverage Managers, Club Presidents .Established by the New Jersey Club Managers Association in 1996, the New Jersey Club Foundation is a non-profit organization.
Many golf professionals recognize the fact that if they really want to get to know their members beyond the golf course, there is one excellent road to take – take them on the road literally. Just talk to those who have done it. Many PGA Professionals come back from member group golf tours they have organized, wondering why they hadn't done it years earlier. Not only is it fun, but it can really make a difference in the way members perceive their club Pro and the connection they share with their Pro.
"On group trips, I'm able to spend time with members as a friend rather than an employee," says Gregory Prudham, PGA head professional at Warner Springs Ranch near San Diego.
Kirk Hanefeld, PGA director of golf at The International in Bolton, Mass., agrees. "A greater mutual respect emerges every time I travel with members. The work, organization, playing ability and resulting fun for everyone have given our members a different view of who I am personally and professionally."
"This golf lover's luxury Bermuda golf cruise is an ideal vehicle for golf clubs to establish closer bonds with their members, greater loyalty and an effective promotion that attracts new club members. Published Navigator brochure fares for this cruise begin at $11,598 per passenger but GolfAhoy group fares for the same entry level suite are just $4,799 and that includes free airfare from all major US gateways," says GolfAhoy travel ambassador Kaustuva Mukherjee.
"Many golf industry companies can also choose this Bermuda Golf Cruise as an opportunity to advertise as a prize in a consumer Sweepstakes campaign; incentive travel reward for their distributor network; or gift basket amentiy with their products in Suites during the cruise; or hole-in-one prizes or they may well wish to accompany the group," Mukherjee says.
He adds -"GolfAhoy group guests will enjoy unsurpassed levels of luxury defining The Regent Experience: gracious and attentive service with a smile, you're every desire and wildest dreams fulfilled, your spirit relaxed amidst tranquil seas and absolutely magnificent scenery. The RSSC Navigator is well appointed with FREE beverages, including fine wines, beer and premium spirits;All staff gratuities; Up to four gourmet restaurants; Butler service in Penthouse Suites and higher; Complimentary 24-hour room service. 9 Golf course choices for the cruise include The Savannahs GC-Port Canaveral; Kiawah Island Resort GC-Charleston; Belmont Hills GC-Bermuda; and many more"
Anthony Webber owner of GolfAhoy says, "GolfAhoy pioneered the 'golf cruise' concept in 1988. We've been the acknowledged travel industry leader in the 'golf cruises' specialized market segment for over twenty years but we also offer land based golf trips to popular golfing destinations worldwide. GolfAhoy operates GolfAhoy golf cruises for couples & groups aboard 193 different cruise liners with exciting golf itineraries spanning the globe with fares to accommodate all budgets. On a GolfAhoy golf cruise your luxurious cruise liner is your floating clubhouse. Each evening you'll dine and dance at sea. Each morning you'll awaken to a new links layout and challenging championship golf. At GolfAhoy we sell the golf experience first and foremost. The cruise ship is simply a convenient conveyance to get from one golf course to the next."
GolfAhoy operates golf cruises in the Caribbean, Mexican Riviera, Hawaii, Mediterranean, South Africa, ,Australia and European river golf cruises. GolfAhoy also provides land based golf travel packages to Scotland, Ireland, England, Europe, USA and over 5000 golf trips to virtually anywhere golf is played. For busy executives GolfAhoy can arrange a quick escape to Scotland, to play the old course at St. Andrews aboard a private jet with helicopter transfers between different courses.
"However, time is of essence! The deeply discounted GolfAhoy promotional fares on this once a year opportunity with FREE airfare to Fort Lauderdale are applicable when the GolfAhoy group package is booked before June 17th. 2010," added Mukherjee.
Visit GolfCruiseHoliday or call 877-415-5442 x 7803 and a GolfAhoy travel reservation specialist will personally handle every aspect of your reservation.
# # #