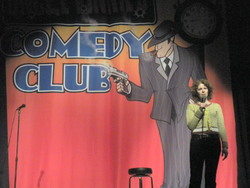 Information is available on our website, and any comedy club or comedian interested in taking part in a future job fair, should contact us through our website
Richmond, NY (PRWEB) March 21, 2010
How do you joke for a job? Comedians did exactly that at the National Association of Comedians first job fair held recently at Uncle Vinnie's Comedy Club in Staten Island, NY. Sponsored by the National Association of Comedians, the 400-seat theater offered an excellent venue for the 23 comedians, from as far away as Chicago, to perform before industry professionals, their peers and an audience of guests.
"Although the rain and stormy weather was no joke, the event was a great success," said Ron Kaplowitz, founder and president of the National Association of Comedians. "We were excited to offer comedians the opportunity to perform in front of such highly respected industry professionals as Suzy Yengo, president of Catch a Rising Star Comedy Clubs, Mike Dano, president of Creative Entertainment, one of the countries largest booking agencies, and Jerry Ibelli, owner of Uncle Vinnie's Comedy Clubs in Staten Island and Pt. Pleasant, NJ." Kaplowitz added that he had already learned that a number of the comedians have been booked for performances in New Jersey, New York and Connecticut as a result of the job fair.
"In this challenging economy, we plan to hold additional job fairs throughout the country to help comedians find work," explained Kaplowitz. "Information is available on our website, and any comedy club or comedian interested in taking part in a future job fair, should contact us through our website," he added.
The National Association of Comedians was formed to provide group benefits and services to comedians and those who support the comedy industry. The association offers group insurance products including group health insurance, dental, vision, pharmacy insurances, workman's comp and disability insurance, as well as a host of other insurance products, discounts, educational seminars and more. For membership information, visit the website at http://www.nacomedy.com.
# # #