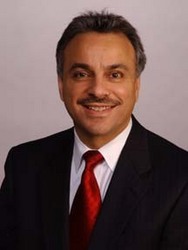 As a lifelong fan of the game of baseball, I am honored that The Joe Niekro Foundation has asked me to serve on its board.
Troy, MI (PRWEB) March 22, 2010
Doeren Mayhew (http://www.doeren.com), Troy-based certified public accounting and management consulting firm, announced today that Lawrence A. Simon, Director, was elected to The Joe Niekro Foundation Board of Directors.
Natalie Niekro, founder of The Joe Niekro Foundation, said: "We are very pleased that Mr. Simon will be joining the board of directors. Larry has great advisory experience and serves as a board member for several businesses and organizations. His knowledge and insights will make a significant contribution to our cause."
Mr. Simon said, "As a lifelong fan of the game of baseball, I am honored that The Joe Niekro Foundation has asked me to serve on its board. I look forward to working with Natalie and all of the board members to help realize the mission of this very worthwhile Foundation."
Mr. Simon began his career with Doeren Mayhew in 1983 and is director in charge of the firm's Corporate Finance Group. He specializes in closely held corporations, mergers and acquisitions, and business consulting. Mr. Simon received his Bachelor of Business Administration from Western Michigan University and is a member of the American Institute of Certified Public Accountants, Michigan Association of Certified Public Accountants, Association of Certified Fraud Examiners, and the National Association of Certified Valuation Analysts.
The Joe Niekro Foundation was founded in 2006 by Natalie Niekro, daughter of major league baseball pitcher Joe Niekro. Mr. Niekro enjoyed a successful baseball career of 21 years before losing his life from a sudden cerebral brain aneurysm on October 27, 2006. The lack of public awareness and under-support of research of this widespread and often fatal condition led Natalie Niekro to launch a crusade to educate and encourage awareness about aneurysms. To learn more, please visit http://www.joeniekrofoundation.org.
Founded in 1932, Doeren Mayhew recently celebrated its 78th anniversary and has grown to become nationally and internationally recognized as trusted business advisors to thousands of individuals and businesses throughout North America and around the world. Doeren Mayhew represents manufacturers, contractors and builders, retailers, wholesalers, distributors, auto dealers, financial institutions, municipalities, school districts, and non-profit organizations, with a full range of accounting, audit, tax, merger and acquisition, and consulting services.
Doeren Mayhew, known internationally as Moore Stephens Doeren Mayhew, is the 8th largest certified public accounting and consulting firm in southeastern Michigan, with a staff of more than 200, including 33 directors. Doeren Mayhew is an independent member firm of Moore Stephens North America, one of the world's major accounting and consulting associations.
###