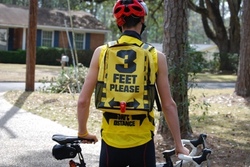 "More motorists are giving them more space more often." "It's working," said Mizereck. "Lives are being saved. And that's our goal."
Tallahassee, Fla. (PRWEB) March 22, 2010
Safe Cycling, LLC announced today the addition of a durable, visible and practical backpack for cyclists with the polite, clear and bold words "3 Feet Please" on the motorist seen side to help remind motorists to give cyclists at least 3 feet clearance when passing them from the rear.
The idea for placing the "3 Feet Please" message on the back of cycling jerseys and now the backpacks came to cyclist and company President Joe Mizereck when he was nearly hit by two motorists on one of his rides. "I told myself that's it, I need to do something," said Mizereck. "Since Florida has a '3 foot clearance' law I decided to place the words "3 Feet Please" on the back of a cycling jersey to let motorists know that cyclists need at least 3 feet clearance when passing."
The company is shipping jerseys and backpacks to cyclists around the world and they are reporting back to Mizereck that, "More motorists are giving them more space more often." "It's working," said Mizereck. "Lives are being saved. And that's our goal."
Key features of the new backpack:
-Made of tough, water resistant Cordura fabric. Durable enough to withstand daily commutes in rain or shine.
-Designed to allow quick access to items that may be needed during riding, while not disturbing contents.
-Padded internal pouch for secure transport of a normal sized laptop.
-Reflective taping on straps to increase visibility from both passing and oncoming traffic.
-Loop on front can hold a flashing LED safety light.
-Separate bottom compartment allows wet or dirty clothes to stay separate from clothing and electronics in main compartment.
-Internal organizer pocket and key clip.
-Side mesh pockets store food items, gloves or water bottles.
-Accommodates most hydration systems (sold separately); held in place within a Velcro secured compartment behind the back panel. Tube held in place by a loop on the right shoulder strap.
In 2008 in the United States, 716 bicyclists were killed (2.1% higher than 2007) and an additional 52,000 were injured in traffic crashes (21% higher than 2007). Bicyclist deaths accounted for 2 percent of all traffic fatalities, and bicyclists made up 2 percent of all the people injured in traffic crashes during the year. The state of Florida saw the greatest loss of lives with 125 cyclists killed in 2008.
Fifteen states have laws requiring motorists to give cyclists and in many cases all other vulnerable road users at least 3 feet clearance when passing from the rear. Mississippi became the 15th state recently when Gov. Haley Barbour signed into law the John Paul Frerer Bicycle Safety Act, named after a Tupelo teen who died while cycling in August. Mizereck points out, "The value of this law is found in using it as a tool to educate motorists on what is and is not a minimum safe passing distance. It's not about issuing tickets. The key thing for a motorist to remember is if you cannot give a cyclist at least 3 feet clearance when passing, you wait until you can. Simple-- 3 Feet Please."
The cost of the backpack is $85 with free shipping. To order one, go to: http://www.3feetplease.com. Questions? Contact: Joe Mizereck at 1.800.761.0907.
RoadGuardian.com, 3FeetPlease.com and pleaselook.com are initiatives of Safe Cycling, LLC and are focused on making riding a bicycle safe and fun.
###