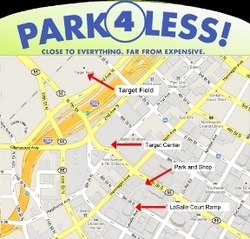 Minneapolis, MN (PRWEB) March 23, 2010
Park and Shop and LaSalle Court Minneapolis parking ramps have announced special event parking rates which include Minnesota Twins Baseball Games.
Because Park and Shop is less than five blocks from the Twins stadium, it makes a convenient alternative to Target Field parking. With just a short walk, you can save time and the hassle of sitting in heavy traffic. With these downtown Minneapolis ramps it's easy in and easy out. The event rate is $5.00 which is good any time after 4:00 pm Monday through Saturday and all day Sunday. These special rates also apply to Target Center Events Parking.
"We make every effort to make your parking experience safe as well as
Convenient". Said James Sanders, Managing Partner.
The Minneapolis parking ramps have excellent security systems. Closed circuit television monitoring and 24 hour surveillance are in place for both parking facilities. Park and Shop ramp has a Minneapolis Police Officer stationed on site over 100 hours per week. LaSalle Court has a uniformed security guard patrolling the premises seven nights a week. Whenever uniformed security officers are not on duty, Park and Shop employees patrol both ramps. The ramps have 24-hour radio contact with each other. Escort service is available upon request.
Both the Park and Shop ramp and the LaSalle Court ramp have daily parking open to the public at competitive rates as well as offer contract parking. With contract parking, you can have access to both ramps with the same pass. Both ramps participate in the Do the Town parking promotion and accept all major credit cards.
LaSalle Court Parking ramp and the Park and Shop ramp are family owned and are both located near 8th St. and LaSalle Avenue. Their 1,700 safe clean parking spaces are conveniently located in the heart of downtown Minneapolis. They have entrances on four streets: 7th Street, 8th Street, Hennepin Avenue and LaSalle Avenue. For more information on downtown Minneapolis parking, you can call 612-672-0060, or visit http://www.parkmpls.com.
###