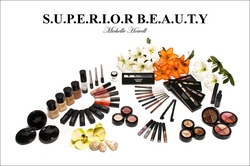 "Only 400 Summer Glow Beauty Makeup Packages Available To Try For FREE Worldwide"
Glenmore Park, New South Wales, Australia (PRWEB) March 23, 2010
Superior Beauty has officially opened subscriptions for the brand new Superior Beauty Summer Glow Make up Package as part of a limited offer designed to introduce its worldwide customers to the results of a team of professionals that have been working for the past 25 years in this industry.
Even if Superior Beauty is normally pricing its Summer Glow Make up Package at $225, the latest make-up set can be obtained at no cost, as part of a worldwide promotion, during the following time period. By accessing the company's beauty and makeup special offer website at http://superiorbeautymakeup.com customers can request the free sample by filling up the form present on the home page with a correct email address.
This information will then be used in order to establish communication between the company's make-up experts and the customer in order for the special offer to be properly delivered.
"The package currently offered for free comes in an amount of 400 beauty makeup packages, reason why it is recommended to subscribe at an early stage in order to make sure that the stock will still be available at the time of your request" mentioned Mrs. Michelle Howell, CEO of Superior Beauty, as part of a description of her company's latest special offers.
"We only have 400 beauty & makeup packages available for free and once this number has been reached the special offer will be shut-down, reason why we are advising our customers to benefit by subscribing at our VIP early bird online delivery service as soon as possible", concluded Mrs. Michele Howell.
For additional information regarding "Superior Beauty Summer Glow" Package as well as instant access to a free make-up package it is recommended to visit http://superiorbeautymakeup.com and fill the form present on the home page of the website in order to get on the "VIP Early Bird" list in the shortest time possible.
About Superior Beauty:
Superior Beauty is a team of professional beauty and makeup artists with up to 25 years experience that have researched for more then 12 months to come up with what they believe to be the highest quality makeup. Their latest work has been entitled "Superior Beauty Summer Glow" Package and has been priced at $225, however, as part of the latest promotion, can be obtained for free in a limited amount of 400 orders.
Contact:
Superior Beauty
Michelle Howell - CEO
michelle(at)superiorbeauty(dot)com(dot)au
6 Tuga Place Glenmore Park,
http://superiorbeautymakeup.com
###