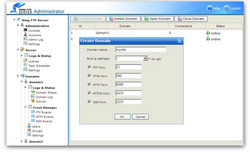 (PRWEB) March 25, 2010
Wing FTP Software has recently released its most updated software, Wing FTP Server 3.4.1. The software features a cross platform capability and can be run with Windows, Linux, Mac, free BSD and Solaris. The server enables users to monitor the server in real- time and keep track of users connected the server, as well as collect detailed user information. Default e-mail notifications are sent to event managers that allow the program to respond to multiple events, including file uploading and downloading.
The Wing FTP Server supports the following protocols: FTP (File Transfer Protocol), HTTP (Hyper Text Transfer Protocol), FTPS (FTP over SSL), HTTPS (HTTP over SSL) and SFTP using SSH2 (File Transfer over Secure Shell).
This enhanced software offers a brand new set of advanced tools, including: a Web based remote control, a Web based client that provides access to files anytime and anywhere, an administrative console and a task scheduler. The task scheduler permits the event manager to use Lua scripts to appoint an action at a specific time. Also, the server provides database storage of accounts information via ODBC or MySQL.
The Wing FTP Server 3.4.1 stands out as one of the cheapest and easiest to use of comparable FTP servers on the market and is the first FTP server software with a GUI on Linux.
Wing FTP has fixed an information disclosure vulnerability that had been occurring when used with HTTP protocol. The company has also assessed the issue of Windows not being able to register the service during installation.
Wing FTP Server can be purchased online and is also available in a trial version, which is good for 30 days. The purchase comes with lifetime e-mail and Live Chat technical support, along with two years of upgrade protection. The server is available in three different editions: standard, secure and corporate.
Wing FTP was founded in 2001 with the goal of providing superior FTP software and continues to hold its new product to the highest standards of excellence.
For more information about Wing FTP Software and the Wing FTP Server, please visit the Web Site at http://www.wftpserver.com or contact Tony He at +86-18605750346.
###